Case Studies Victoria Barker 18/06/2020
Meet the landlord going the extra mile for his tenants and key workers during Covid-19 pandemic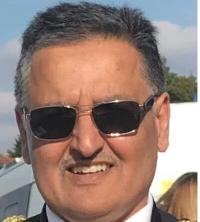 Lockdown is now easing in England and Wales, and many landlords have been getting in touch with the NRLA to let us know about what they have done to support their tenants during the pandemic.
Landlord and business owner Ben Khosa has spent the last month reaching out to his tenants and key workers in his local town of Twickenham , providing practical support.
He said:
"The Covid-19 pandemic has affected every industry and everyone in one way or another, whether it be financially, physically or mentally", begins Ben.
"That's why even before the lockdown was announced, myself, my wife and my son who also help me manage my portfolio of rental properties were proactive, and made contact with all our tenants.
Ben wrote a letter to all of his tenants, outlining the steps he as a landlord planned on taking in relation to the maintenance of the properties and that he was happy to be contacted by his tenants if they need support due to the pandemic.
Following on from the letter, several tenants got in touch with him saying their income had been reduced due to Covid-19. With some tenants, Ben has been able to agree to defer the rent. With others, they were not aware of the support available to them, so Ben took a different approach.
"I took the time to research the options available to some of my tenants, for example some wanted to understand more about accessing universal credit. Once I had compiled the information, I then presented the options to the tenant", says Ben, adding "For some tenants we have agreed to a proportion of rents and or arrears to be deferred".
Offering to help with shopping
Ben also often checks in with his tenants on the phone, especially those that are vulnerable. For such tenants, Ben has even offered to help deliver shopping if they need extra support with this. He has also provided some of his tenants in flats with basic garden furniture for them to make use of, while encouraging them to observe the rules on social distancing.
On an emotional level, Ben is also currently working on gathering a range of helpful online resources for him to sign post tenants to, if they express they are concerned about their mental health.
Supporting key workers
It's not just Ben's tenants who are benefiting from his generous nature at this troubling time.
As well as being a landlord, Ben runs a self-service laundrette on a main road in Twickenham, that has been in the family for more than two decades.
When he heard news reports about the long hours many key workers are doing at this time, he made a generous offer.
He has offered all local key workers the chance to use his laundrette facility for free.
"We have implemented social distancing rules in our self service launderette and suggested that customers should take a walk or wait in their car whilst they wait for their laundry to be done. We provide the soap, and all key workers locally can come and wash and dry their laundry".
Since posting the offer on the doors of his laundrette, many keys workers including those who work in the NHS, prison service have benefited from the unlimited free use of the launderette. The generous offer is also helping other people.
"We are only too pleased to help, and the offer has also benefitted some homeless individuals who come to wash their clothes", says Ben.
We know that many landlords are going the extra mile to support their tenants at this time. If you want to share your story with us, please leave a comment under this article.