The Data Observatory
The NRLA Data Observatory is a collection of official and other well-established data sources which when combined, provide a narrative of the Private Rented Sector (PRS). The NRLA tracks approximately 45 key data sets which are updated monthly, quarterly and annually. A selection of these appear in these pages.
Our Deep Insight blog provides a regular extension of the analysis which appears here, as well as those datasets which are not published in the Data Observatory section of this website.
The blog pages also features blog posts from other organisations and academics to provide insight on the PRS. Here you can also find more in-depth summaries of our regular reports and surveys.
Please note that covid-19 has affected the collection and publication of data, particularly data which is collected by local authorities. This means data is not as upto date as usual.
Lending & housebuilding
Bank lending
Chart 1: Residential & BTL (Buy-to-Let) lending activity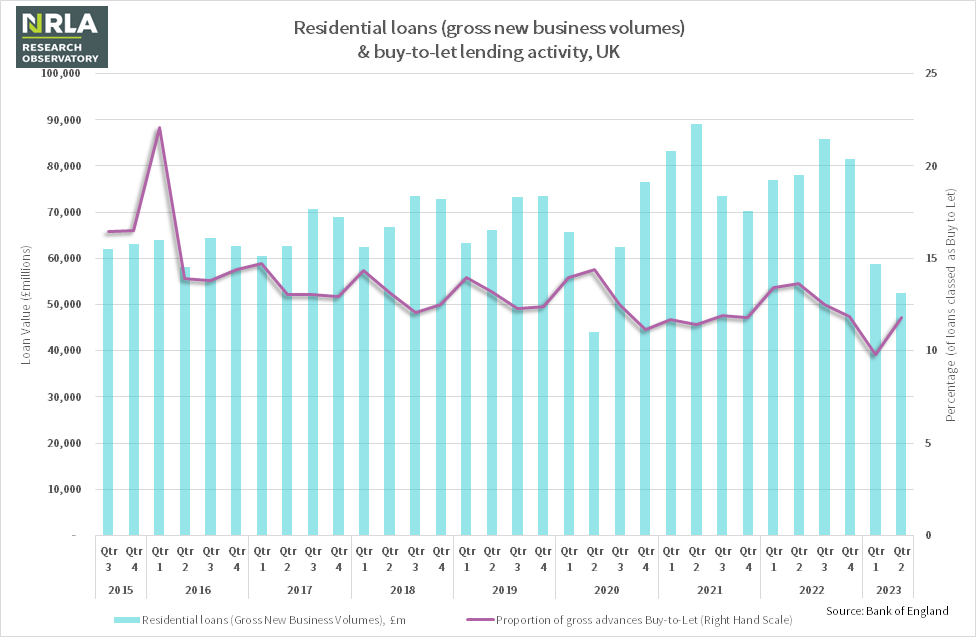 Quarter 2 saw a continuation of the fall in gross mortgage advances. This was the third consecutive quarter in which lending has fallen. Note the values presented in this data – of which £52.4bn is the most recent – are in current prices, and do not take account of inflation.
The Quarter 2 figure was £6.3bn lower than the previous quarter, and 32.8% lower than in 2022 Q2. This was the lowest observed since 2020 Q2.
The proportion of total lending going into the Buy-to-Let market may at first glance appear to be on the increase, from 9.8% in Quarter 1 to 11.8% in Quarter 2. This increase is of course more of a product of the 10-11% decrease in overall lending volumes.
Overall, lending in the BTL sector is flat, if not declining – and almost certainly declining in real terms.
Housebuilding - England
Chart 2: House completions - England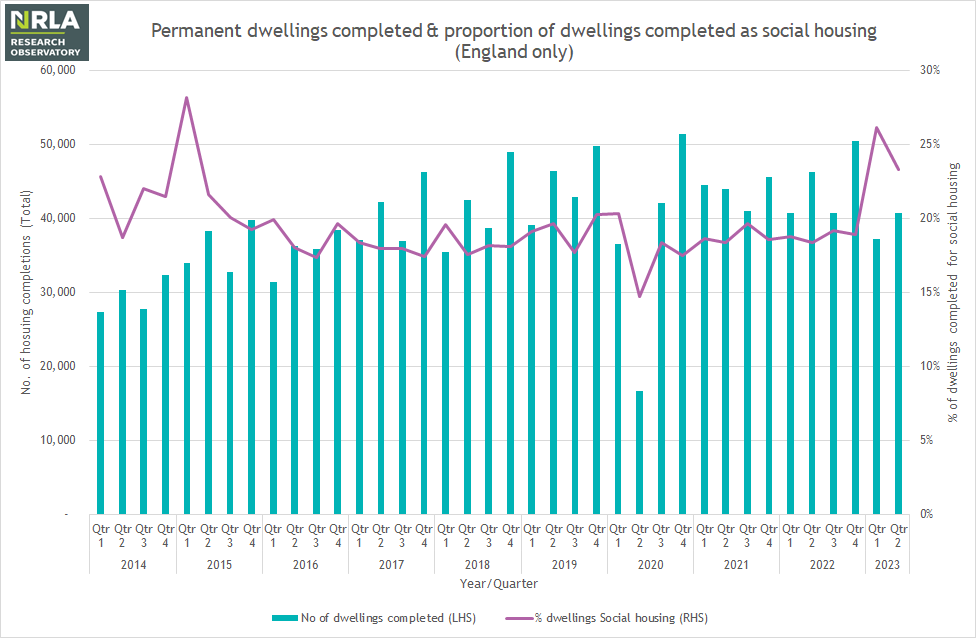 This chart looks at the supply of new homes being completed and brought to market.
Excluding the Covid-affected Q2 2020, the second quarter of 2023 witnessed the lowest number of Q2 completions (40,720) since 2018 (42,480).
However, the data does show an improvement from the previous quarter's 37,160 completions.
Are enough homes being built? On this chart, only in Q4 2022 and Q3 2020 did completions surpassed 50,000 per quarter. It is then necessary to go back to 1986 to find a quarter in which completions exceeded this threshold (50,340).
Social Dwellings
This most recent quarter saw the number of social housing completions reman high by historic levels, but down slightly on the previous quarter:
In Q2 2023, there were 9,490 social dwellings built, representing 23.3% of all completions. This is a fall in both absolute terms (down from 9,700) and down in proportionate terms (from 26.1%) in the previous quarter.
This is the third consecutive quarter in which social housing completions has exceeded 9,000 units.
Housebuilding - Wales
Chart 3: Housing completions in Wales (Annual data)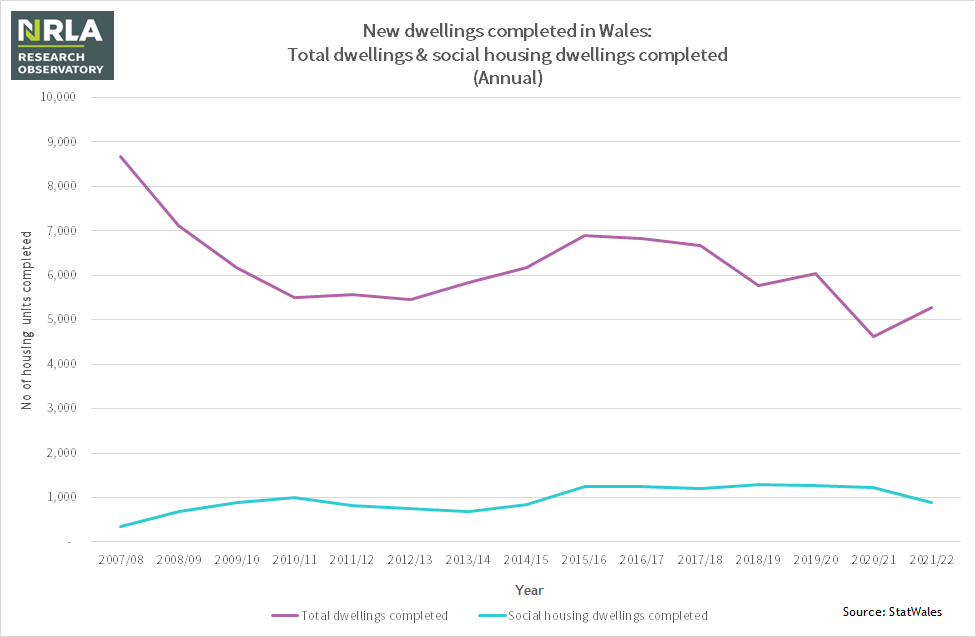 After a long interval StatsWales has recently begun to publish housing completion statistics once more. Note that alongside the data is the following note:
There is currently an undercount in the number of dwellings completed though this is estimated to be quite small.
This is a result of the counting methodology and is not Covid-19 related.
The only available data released for 2020/21 completions (during covid) is annual.
The total number of estimated dwellings completed in 2021/22 was 5,273. This was an increase on the 4,616 completed in the previous year (2020/21).
2021/22 also saw an increase in the number of private dwellings compared to the previous year – there were 3,401 recorded in 2020/21 compared to 4,391 in 2021/22.

This represents a 20%+ increase.
The data for 2020/21 illustrates the impact that Covid-19 has had on dwelling completions. However - though not shown on the chart - the number of private dwellings in 2021/22 is the lowest recorded since 2017/18 (excluding the Covid-affected year of 2020).
Looking more closely at social housing completions in Wales:
The estimated number of social completions as a percentage of total completions in 2021/22 was 16.7%,

This appears to be a drop from the previous year (2020/21) where it was 26.3%.
The apparent high percentage of social completions for 2020/21 is attributable to a fall in total dwelling completions rather than increases in social housing volumes.
Chart 4: Housing completions in Wales (Quarterly data)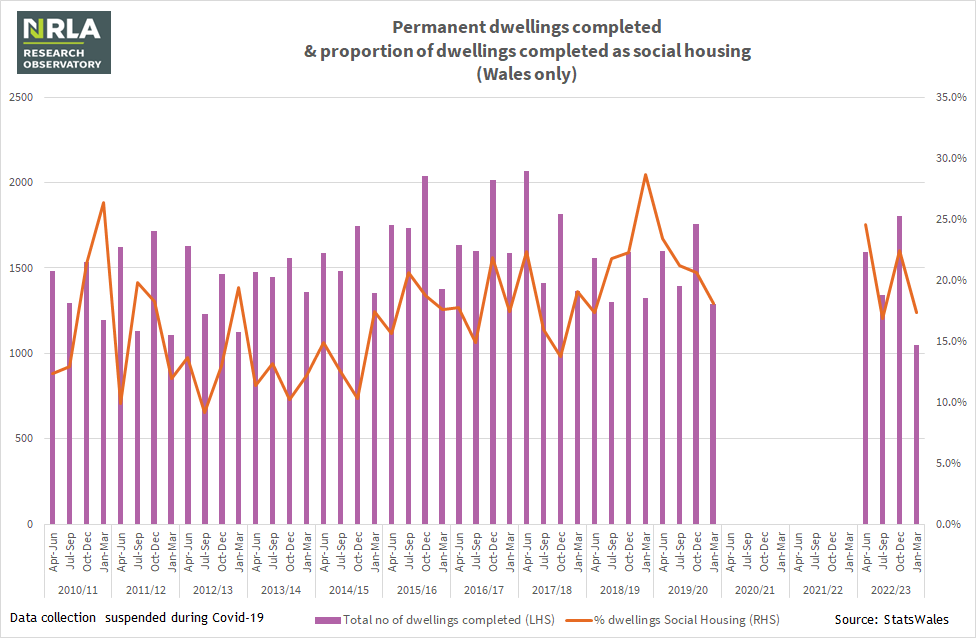 In the final financial quarter of 2022-23 (Jan-Mar), an estimated 1,050 dwellings were completed.
This is the lowest number of completions in any one quarter recorded since StatsWales began collecting data on housebuilding in 1974.
In recent years, the only instance of completions in Wales coming close to this low was in the second quarter of 2011-12, where an estimated 1,132 dwellings were completed.
(There is a gap in data collection due to Covid-19)