The Data Observatory
The NRLA Data Observatory is a collection of official and other well-established data sources which when combined, provide a narrative of the Private Rented Sector (PRS). The NRLA tracks approximately 45 key data sets which are updated monthly, quarterly and annually. A selection of these appear in these pages.
Our Deep Insight blog provides a regular extension of the analysis which appears here, as well as those datasets which are not published in the Data Observatory section of this website.
The blog pages also features blog posts from other organisations and academics to provide insight on the PRS. Here you can also find more in-depth summaries of our regular reports and surveys.
Please note that covid-19 has affected the collection and publication of data, particularly data which is colected by local authorities. This means data is not as upto date as usual.
Lending & housebuilding
Bank lending
Chart 1: Residential & BTL (Buy-to-Let) lending activity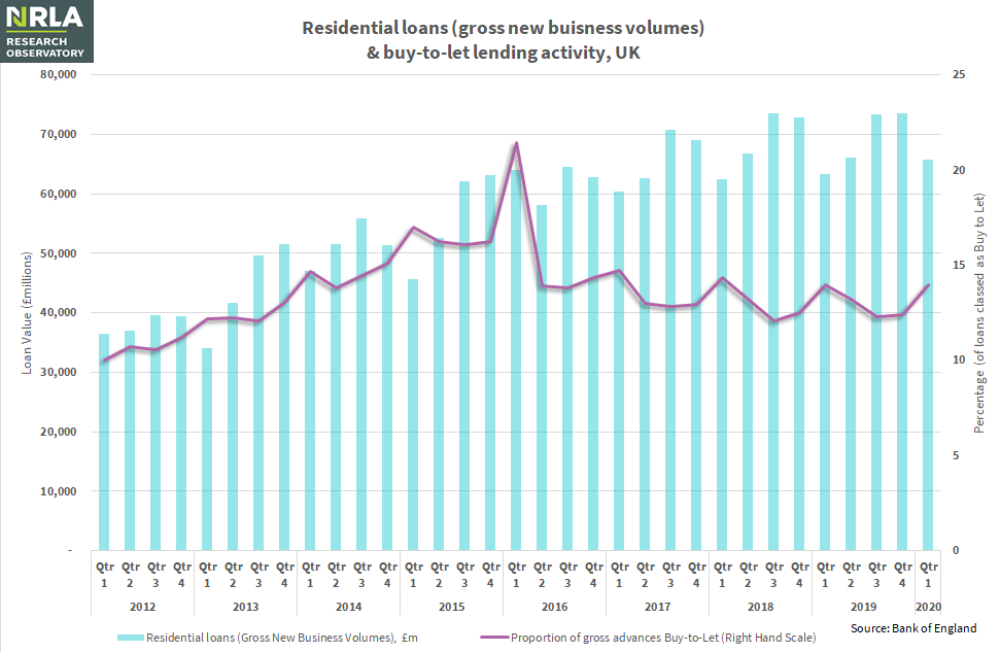 The chart shows how the buy to let market drove UK residential loans – the proportion of buy-to-lets growing in a market recovering slowly from the Global Financial Crisis – until 2015.
However, following the peak in 2016 (as a result of announced tax changes) there has been a noticeable decline in buy-to-lets as a proportion of lending.
This has now become a clear downward trend – notice the declining peaks in Q1 2016 (BTL lending 21.4% of all new residential loans to individuals); Q1 2017 (14.7%); Q1 2018 (14.3%) and Q1 2019 & 2020 (14.0% for each quarter).
It has been the case that typically, Q1 has seen the lowest level of total lending. This is why the Buy-to-Let market appears stronger in this quarter.
These figures largely pre-date the coronavirus. As it stood, the data seemed to show lending actiivty "topping out". How the remainder of 2020 will pan out remains to be seen.
Housebuilding
Chart 2: House completions - England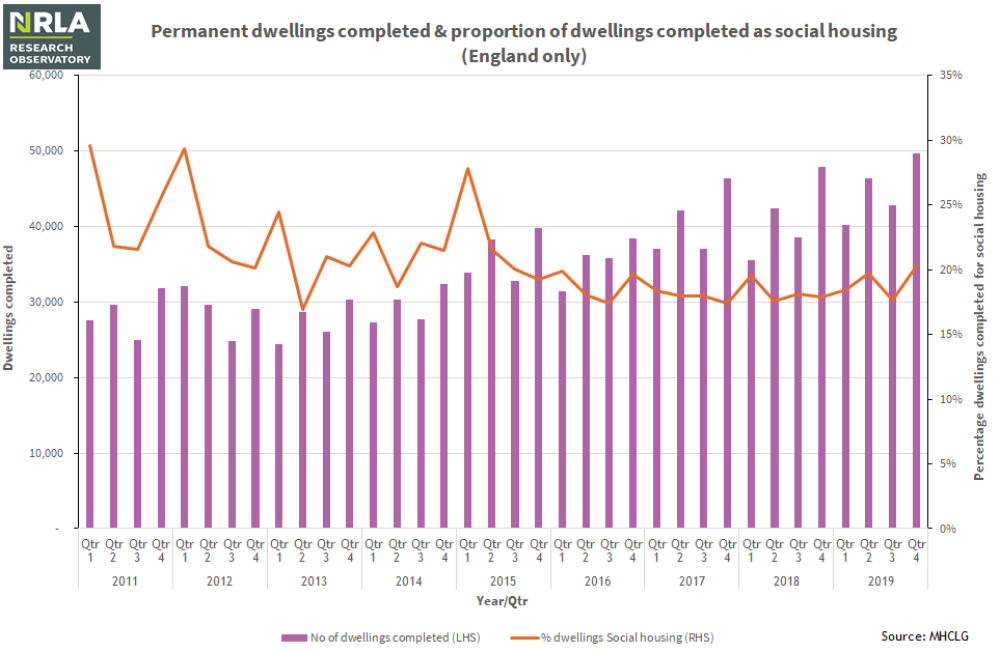 The above chart highlights how crucial the PRS is in the supply of homes.
The pattern is one of slowly growing volumes of dwelling completions, whilst there has been a decline in the proportion of dwelling completions intended for social housing. That said, the data for Q4 2019 WAS encouraging:
Private dwelling completions in Q4 was just under 50,000. This is the highest number of completions this century.
Social housing volumes – of which Housing Association completions make up the bulk of completions – also grew. The 10,000 social housing completions in Q4 was the highest quarterly number of completions since at least the turn of the century (when our coverage of this data began).
Chart 3: Housing completions in Wales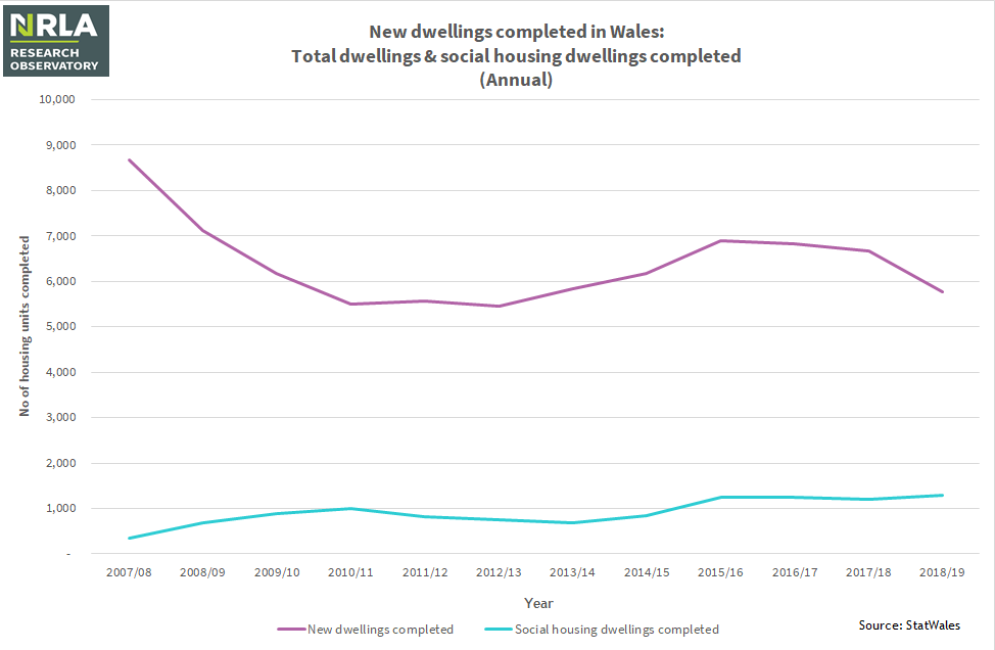 The pattern of dwelling completions in Wales shows a combination of:
Low – and declining – volumes of house completions:
The 21st Century peak for Wales was in 2006/07 (not shown) when housing volumes was just over 9,300 completions for the year: for the last year volume was just 60% of that level.
Low numbers of social housing completions:
Though volumes of social housing completions are growingand are actually at a 21st century high, social housing dwellings are being built at a level of just over 1,200 units per annum.
Note that since 2000/01, just 345 local authority built dwellings have been completed in Wales.