The Data Observatory
The NRLA Data Observatory is a collection of official and other well-established data sources which when combined, provide a narrative of the Private Rented Sector (PRS). The NRLA tracks approximately 45 key data sets which are updated monthly, quarterly and annually. A selection of these appear in these pages.
Our Deep Insight blog provides a regular extension of the analysis which appears here, as well as those datasets which are not published in the Data Observatory section of this website.
The blog pages also features blog posts from other organisations and academics to provide insight on the PRS. Here you can also find more in-depth summaries of our regular reports and surveys.
Possession claims
Chart 1: Total posession claims, England & Wales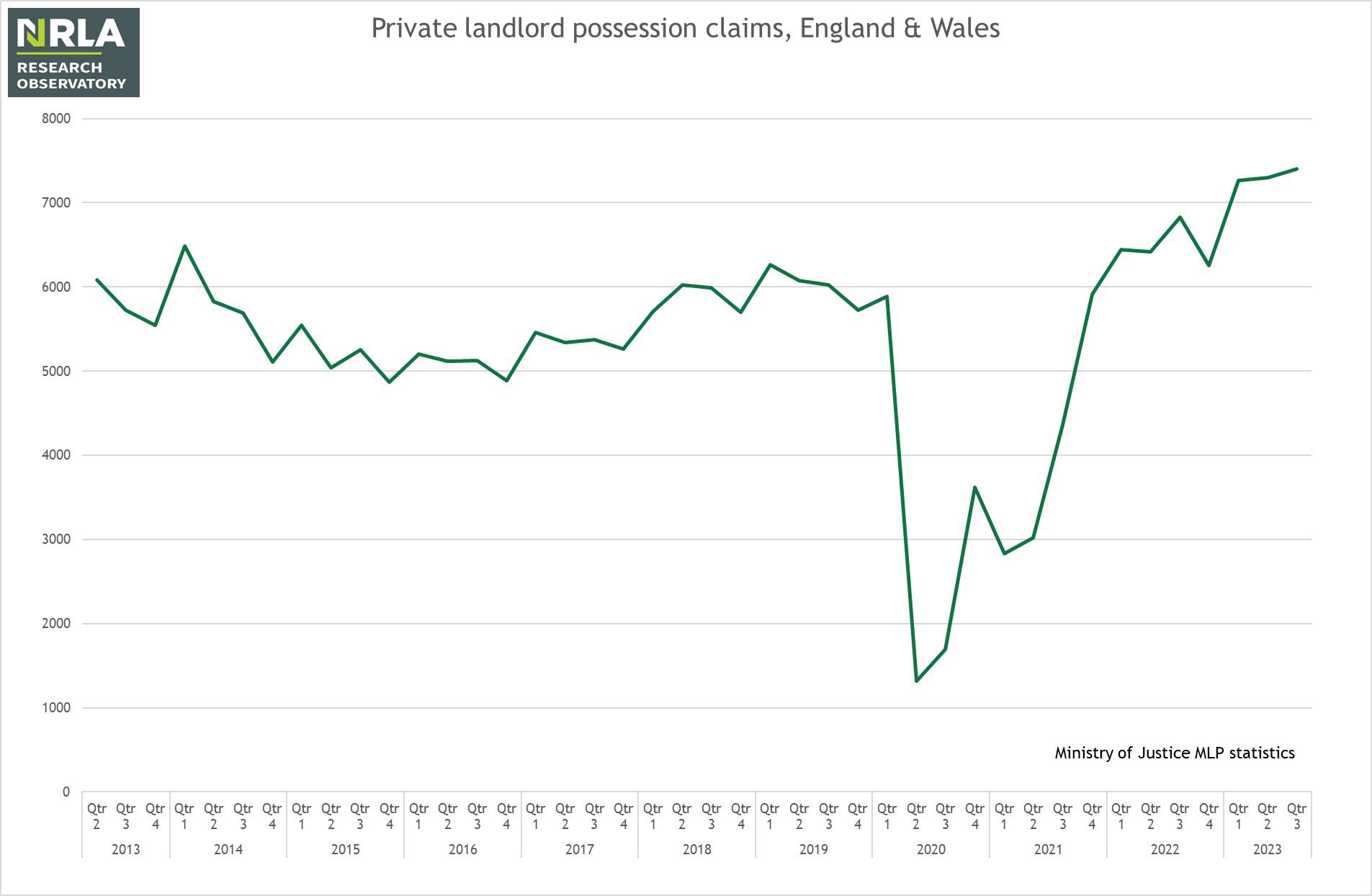 A possession claim is created when a landlord-claimant begins a legal action for an order to regain possession of property, filed in a county court.
In Q2 2023, the number of claims made by private landlords totalled 7,301.
In Q3 2023, the number of claims made by private landlords totalled 7,402, an increase from 7,295 on the previous quarter.
Quarterly data, now being published by the MoJ, goes back to 2009. Claims in Q3 represent the highest figure in any quarter since this data began to be published.
Claims made by private landlords have increased 19% on the same quarter in 2022 and, compared to Q3 2019, (pre-covid) claims have risen by 23%. A range of factors explain this growth. These include:
The effects of the economic cycle and macro-economic factors.
Regulatory change in Wales,
The prospect of change in England is also having an impact.
Note that the total number of claims made by both social and private landlords (24,122) is the highest since Q4 2019 (24,394).
Chart 2: Possession claims by landlord type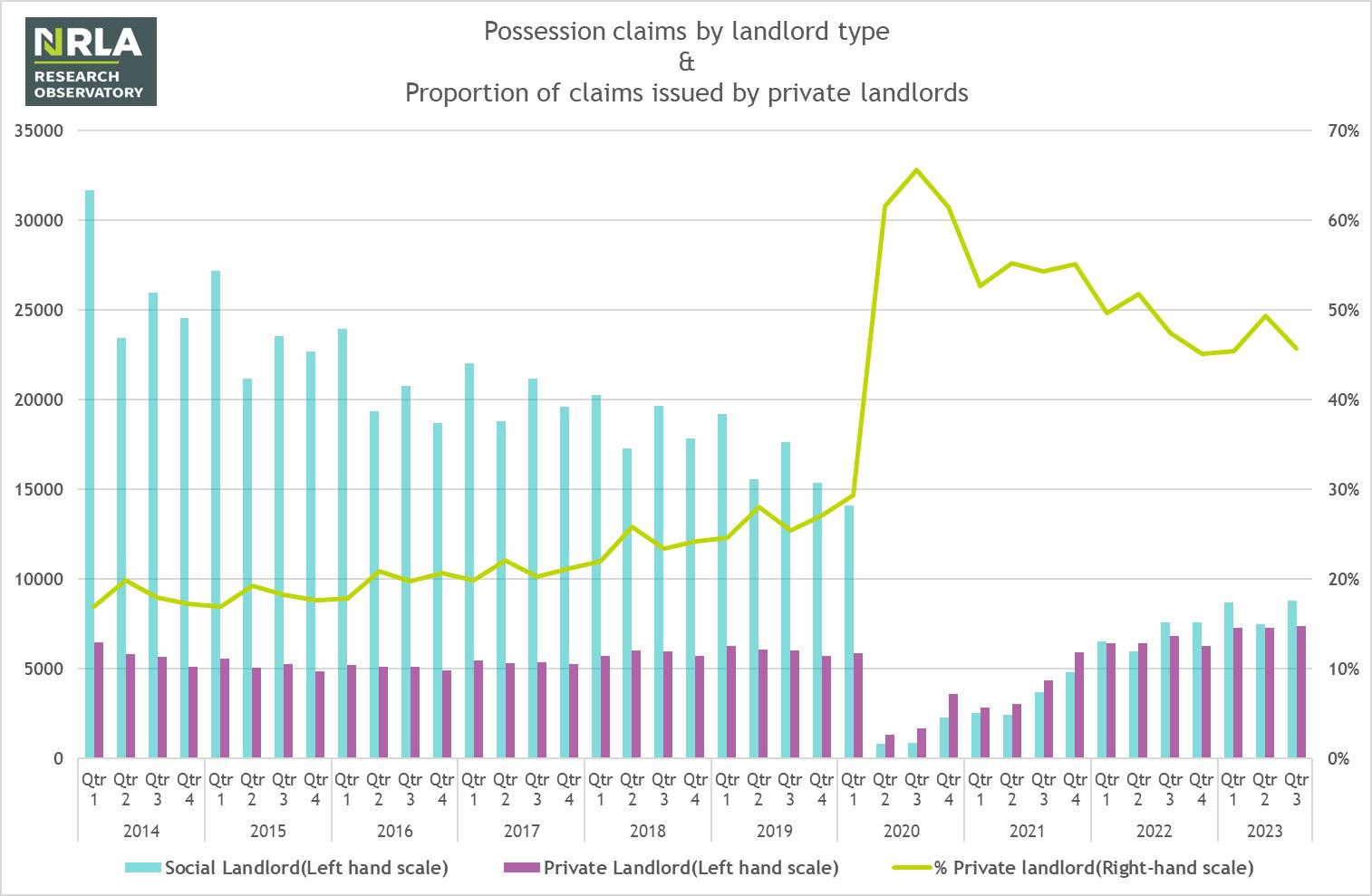 Typically, claims made by social landlords have outweigh those made by private landlords. 
For example, pre-Covid, social landlord claims were 17,629 in Q3 of 2019 whereas claims made by private landlords stood at 6,027.
Covid-19 was an exceptional period, not only did the volume of claims fall, but private landlord claims began exceeding social landlord claims.
However, for the most current quarterly period, as with the three quarters before, social landlord claims (most recently running at 8,789) have again exceeded those of private landlords (7,402). This shift indicates a "return to normality" post-pandemic.
Chart 3: Analysis of possession claims and repossessions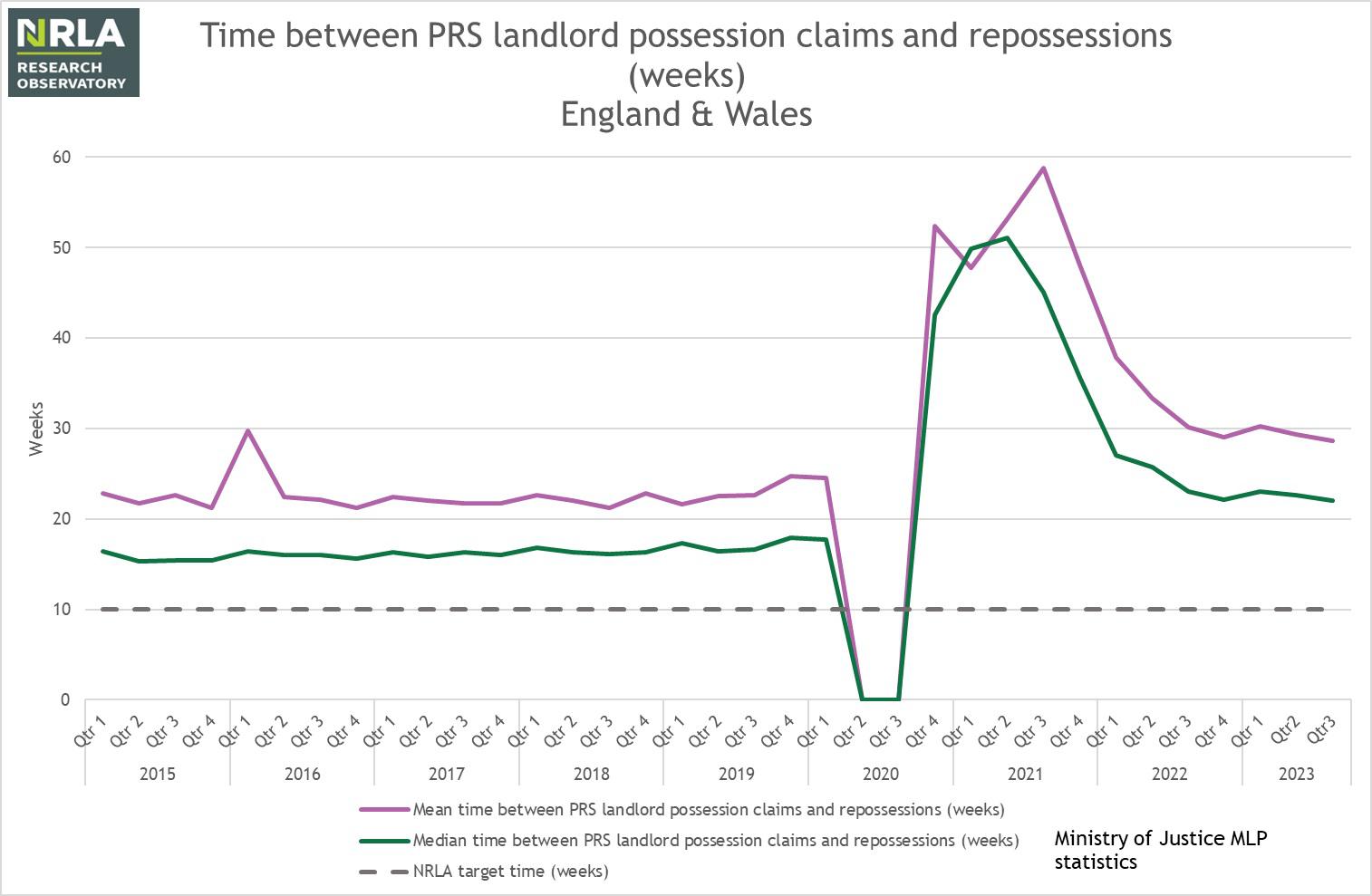 Following the first Covid-19 lockdown, there was a sharp increase in the mean and median wait time between a possession claim and the granting of a possession order.
The latest data reveals the mean wait time for a private landlord in Q3 2023 was 28.6 weeks while the median time was 22 weeks.

This is slightly down from the previous quarter where the mean time was 29.3 weeks, and the median was 22.6 weeks.
Compared to Q3 in the previous year (2022) progress is being made:
In 2022, the Quarter 3 mean time between PRS landlord possession claims and repossessions was 30.1 weeks, and the median was 23 weeks.
However, despite post-pandemic improvements, the system is still to return to pre-Covid wait times. For comparison:
In Q3 2019 – average wait times were 22.6 weeks (mean) and 16.6 weeks (median).
The NRLA have campaigned for a wait time of ten weeks prior to the pandemic. This campaign target has remained at this level since before the pandemic.