Deep Insight Nick Clay 16/09/2020
Inventory clerks - an overview of users
Introduction
This blog post reports on inventories and the use of independent inventory clerk services by landlords. It highlights some patterns of usage by different groups of landlords.
The analysis has come from the 2020 Quarter 2 survey of landlords. The NRLA's quarterly surveys inform policy development and market intelligence across a range of topics.
The Quarter 2 survey focused on two issues – licensing & regulation and, secondly, the influence of covid-19 on the decisions and strategies being adopted by student landlords.
However there has been recent interest in inventory services and the survey also looked at patterns of how inventory issues were dealt with by landlords.
Inventory clerk services
Inventory services provide independent documentary evidence to establish the condition and contents of a property at the start and end of a given tenancy.
Should there be an end of tenancy dispute the inventory will be used as the primary piece of evidence by deposit scheme arbitrators or in a court of law.
The service is based on a "Check in – Check out" model. During the Check in, the inventory clerk would also provide a summary declaration of the condition of the property, list all keys and permits handed over to the tenants and take any applicable meter readings.
At check out, there is a detailed inspection of the property, assessing and noting any damage or cleaning issues, and checking for missing items. The service providers also collect forwarding addresses make a note of the tenants contact details and forwarding address before finally making a note of the final meter readings.
A detailed report listing findings is prepared along with supporting photographic evidence of any serious issues. The report indicates what is or isn't fair wear and tear. There is also a set of necessary actions required to return the property to the correct standard.
Analysis
Our Quarter 2 survey asked landlords about their use of these services. As the chart below shows, landlords tend to either undertake the inventory themselves or rely on their letting agent undertake the inventory work:
Graph 1: Current delivery of inventory services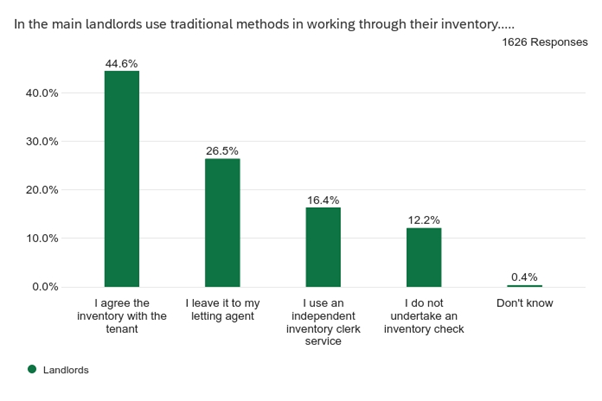 While just 16% of landlords use an independent inventory clerk service, one-landlord-in-eight do not undertake any sort of inventory check all.
However, the pattern of use of such services differ markedly:
Graph 2: Proportion of landlords using inventory services – London vs elsewhere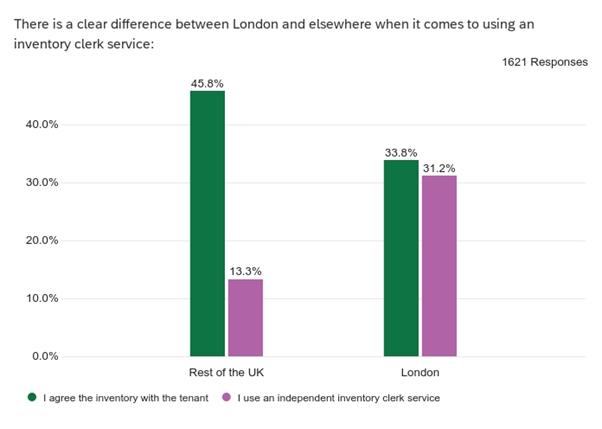 There is a clear difference in the use of independent inventory services by landlords with portfolios in the capital compared to elsewhere. Just 13% of landlords whose portfolios are outside the capital use such services. However almost one-third of landlords whose property is based in London opt to use these services.
Furthermore, even within the capital differences are marked:
Graph 3: Use of inventory services within London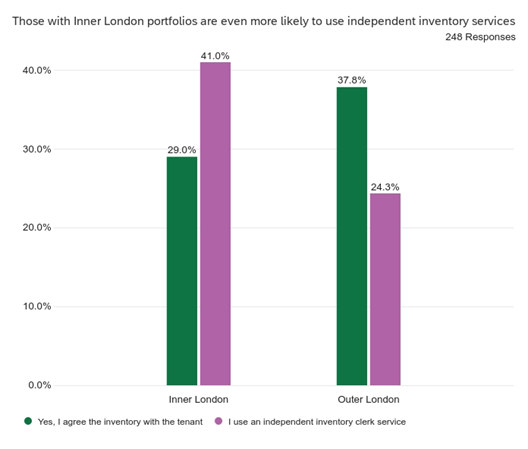 Note that - although cell counts are getting smaller so less reliable the difference is still noticeable. For those landlords who hold portfolios in the heart of London, the benefits of a dedicated inventory service is clearly an attractive proposition.
By contrast, just 8% of landlords with portfolios in one of the northern regions and 10% of landlords in Wales use such a service.
Other key patterns of use
Note that differences in the pattern of usage seem to be determined by portfolio location rather than other landlord-based characteristics:
Similar proportions of male and female landlords use inventory services.
There are no clear differences in the use of such services between landlords in different age groups.
Landlords of multiple properties were slightly more likely to use inventory services than landlords with just the one property – 17% as against 14% - but the difference is small.
However, inventory services are much more widely used by landlords of flats and apartments than other types of housing – almost certainly this reflects the property mix in Inner London where inventory services are most likely to be used:
Graph 4: Use of inventory services in different properties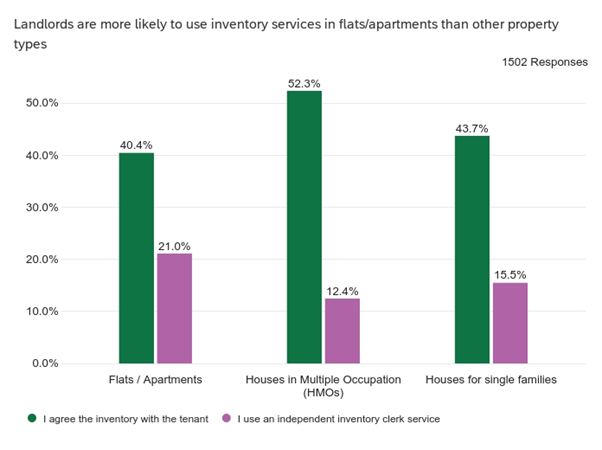 Final points: finding out more about inventory services
Independent services have become an established approach in assisting landlords manage inventory at check in and check out.
The model however appears to be more widely used in central (Inner) London than elsewhere. There does seem to be plenty of scope for providers of inventory services to expand territorially, especially in those markets where flats and apartments are a popular property choice.
The NRLA has recently delivered a webinar on inventory services and others are planned for later in the autumn. The Association of Independent Inventory Clerks is the trade association which promotes professionalism and high standards in this sector. They can provide information for those interested.