Deep Insight Aidan Crehan 22/09/2020
Landlords losing out due to covid-19
The impact of Covid-19 is ongoing and increasingly substantial for many across the country, landlords are no exception. The NRLA undertook a survey of landlords from across England. The research was conducted by YouGov for the NRLA. YouGov interviewed 1,008 residential landlords, the landlords were drawn from YouGov's own database. They were not necessarily members of the NRLA.
The survey found that 22% of landlord have lost income due to Covid-19.
Loss of rental income
Almost a quarter of landlords have experienced a drop in rental income due to Covid-19 (22.0%). This loss of income will vary for landlords of differing portfolio sizes and types, the severity of rental income drop is outlined in Graph 1 below: 
Graph 1: Percentage of income lost due to Covid-19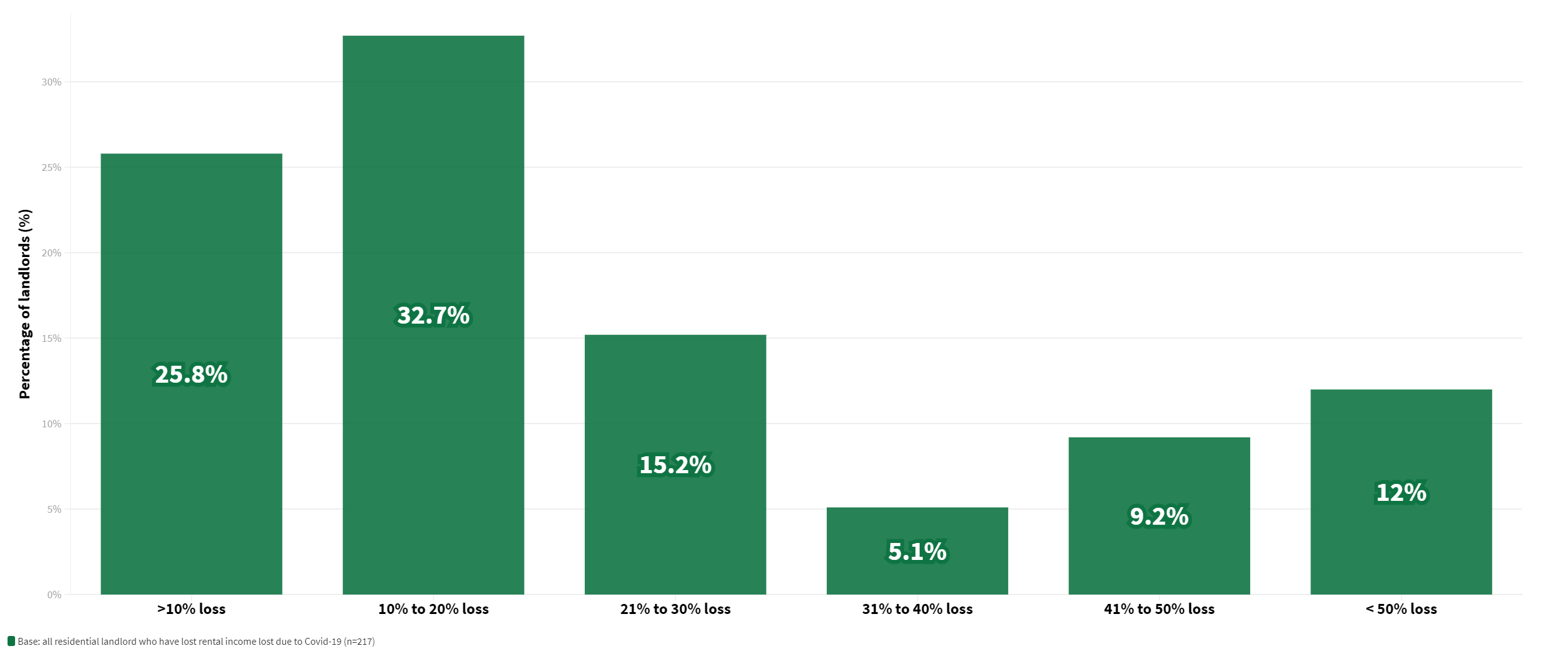 Amongst those losing out due to Covid-19:
Landlords have most commonly lost between 10% and 20% of their rental income.
Combined, over a quarter of this grouping (26.3%) are losing more than 30% of their rental income.
12% of landlords are losing over half of their rental income.
An analysis of the results by the NRLA suggests that among those landlords surveyed saying that they have faced a loss of rent, the average (median) loss was between £751 and £1,000. Applied across the sector as a whole, this suggests that the total rental income lost by private landlords with properties in England as a result of Covid-19 has been between £328m and £437m.
The level of rental income loss experienced by landlords in this time is unprecedented and the effects on the private rented sector are still yet to be seen.
How does this impact landlords?
This research shows that 61% of landlords rent out just one residential property, 34% of those being retired and relying on rental income for all or part of their pensions. The indefinite continuation of rental arrears in this fashion represents an unsustainable situation for tenants and landlords across the country.
Landlords renting out one residential property
61%
Retired landlords reliant on rental income for pension
34%
In response to the financial burden many have found themselves in due to the pandemic and subsequent government measures, some landlords may be looking to leave the private rented sector:
9% of landlords say they plan to leave the market altogether.
7% will sell some of their rental properties over the next 12 months.
If landlords begin to leave the sector, the supply of housing will decrease. This means that many who are reliant on the private rented sector, for example those struggling to access social rented housing or simply unable to afford a house of their own, will be affected.
Concluding comments
In response to the situation outlined, the NRLA is calling for an urgent financial package from the Government to pay off Covid-19 related rent arrears to sustain tenancies. The NRLA proposes that the UK Government follow the examples set in Wales and Scotland to develop interest free, government guaranteed hardship loans for tenants to cover arrears built since lockdown began.
The survey was conducted by YouGov on behalf of the NRLA. The sample of 1,008 was independent of the NRLA (except that some landlords in the sample may, coincidentally, be members).
The policy conclusions are the authors' own, and may not necessarily be those of the NRLA.