Landlord Confidence Index: Regional Overview
Each quarter the NRLA collect the views, motivations and outlook of landlords across England & Wales. The Landlord Confidence Index is a barometer of landlord opinion. The views of landlords are presented each quarter in more detail. Through responding to the quarterly surveys, landlords are contributing to the production of the Landlord Confidence Index.
Below are the results for each region since 2019 when the data collection for this version of the Landlord Confidence Index began.
For more detail on the current Landlord Confidence Index, please visit this page. Readers with an interest in how the Private Rented Sector varies across regions may also wish to compare the results here with regional trends in rent levels - which can done by visiting this page.
About the Landlord Confidence Index
Each quarter, as part of our policy-based surveys members with portfolios based in England & Wales are asked about their current confidence in the Private Rented Sector (PRS).
Where scores are positive (greater than zero) then landlords collectively are more confident about the operating environment. Where scores are negative (less than zero), they conversely feel less confident about the future horizons for their property business.
Since the Index was launched landlords have had to factor into their expectations a wide range of policy-based and tax changes. These include: possible reforms of Section 21; changes - actual and possibly forthcoming - in tax regimes and allowances; new regulations which have an impact on their business and business model (for example the Tenant Fees Act). In London, there has also been the potential introduction of rent controls.
Finally of course, Covid-19 has presented a unique set of challenges. It is therefore not surprising that this has an impact on landlord confidence overall.
More detail on the underlying reasons and factors which explain landlords' market view are presented in the wider index.
Regional Trends: Page 1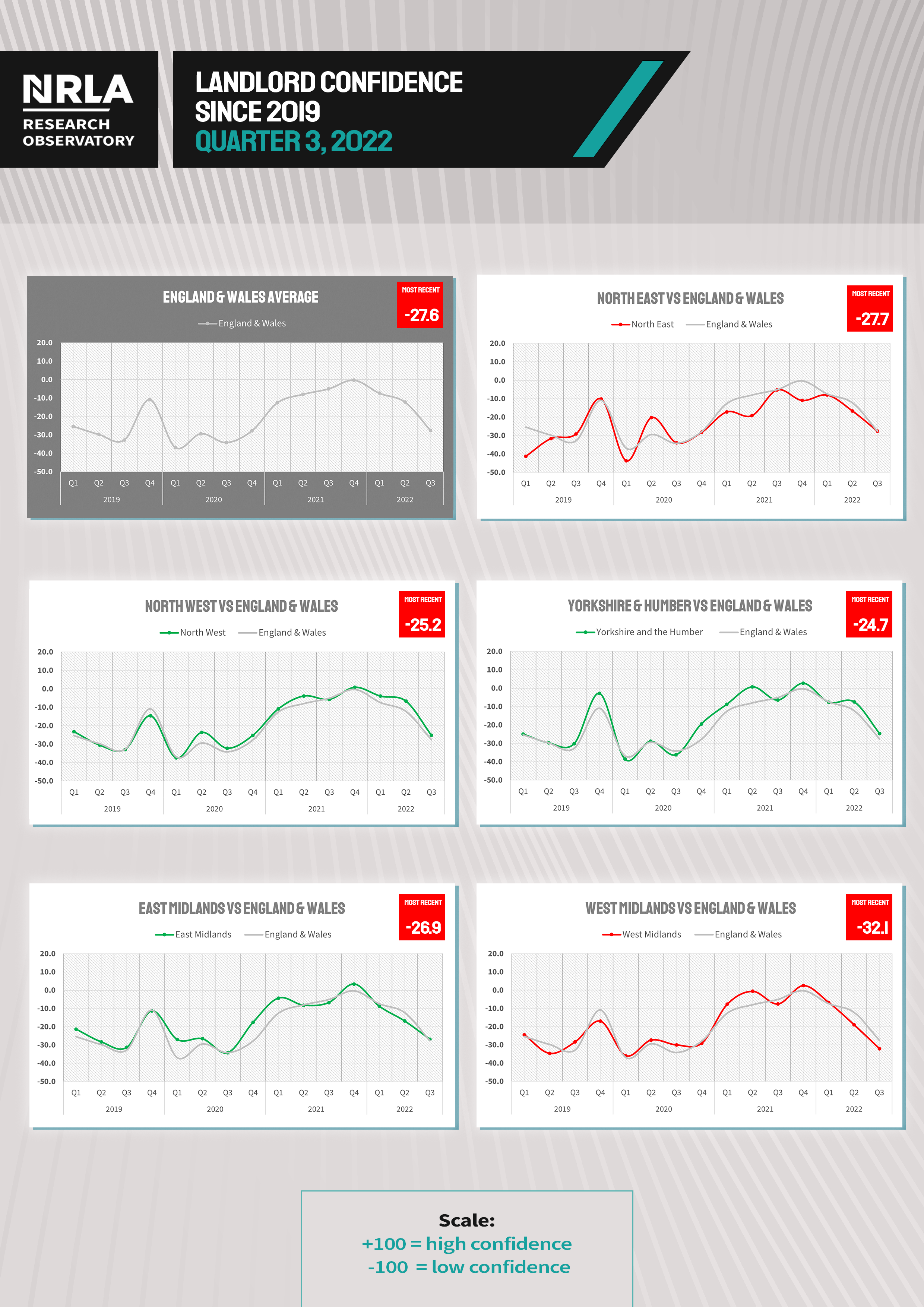 Regional Trends: Page 2