Landlord Confidence Index Nick Clay 19/11/2019
Landlord Confidence Index (LCI) No.3: 2019 Q3
Our Landlords' Confidence Index (LCI) aims to provide a snapshot of landlord confidence.
The LCI attempts to capture the motivations underpinning landlords' key business decisons. 
It is being produced at a time when landlords face pressure from government: Tax changes, new regulations and the threat of adverse legal reforms are now threatening the supply of homes in the Private Rented Sector (PRS).
Page 1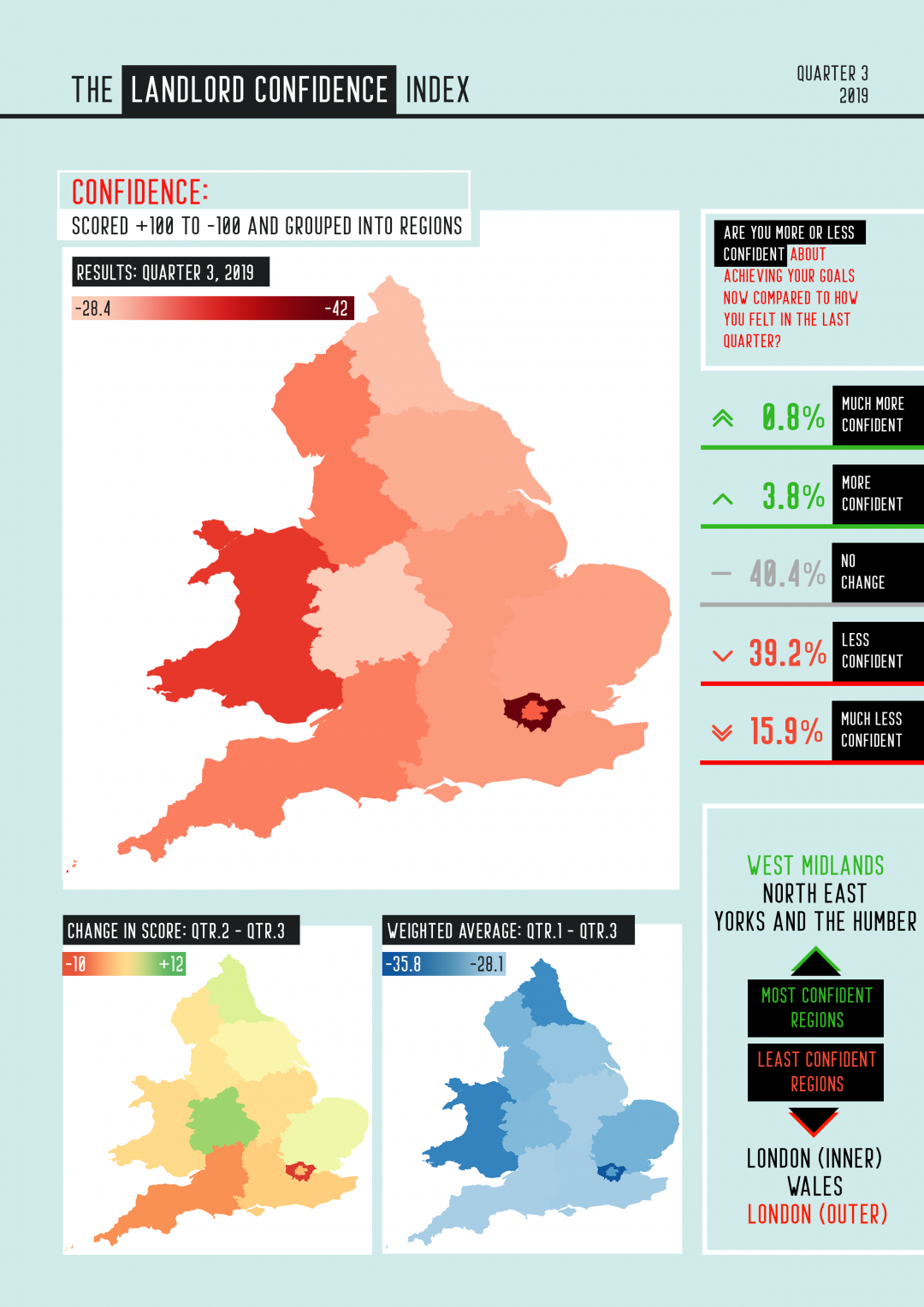 Page 1
Main Chart
Across London the confidence of landlords is low:
Outer London is now the location in which landlords of property based there are least confident
In Inner London the LCI score has reduced in each of the three 2019 quarters in which the index has run
Outside of London:
Though regions such as the West Midlands and North East are described as being the "most confident", the fact remains that overall confidence remains low
Fewer than 5% of landlords are now more confident than they were in the previous quarter
Sub-Charts
Confidence in London – Outer London especially – has fallen since Qtr2.
The LCI score for Outer London (-42.9) is the lowest score recorded in any region since the LCI was first launched in Qtr1
Landlords with portfolios in the North East had previously recorded the LCIs lo-score in Qtr 1
Since then, confidence has improved in the North East as landlords are now amongst the "most confident" (or least unconfident!)
The weighted score presents an average over the last three quarters.
Note that each of the three best performing regions on this weighted score – the South West, East Midlands and South East – are in fact experiencing Qtr-on-Qtr reductions in confidence.
This is the same pattern as the three worst performing regions – two in London and Wales – where confidence is continuing to fall.
Page 2
Page 2
Actions over the last 12 months
This section is on the recent experiences and business action taken by landlords. Over the last twelve months:
More landlords sold (19%) property compared to buying (12%)
More than twice the proportion of landlords opted to freeze rents compared to raising rents (65% vs 31%)
Over 70% of landlords reported that their property remained 'void' for less than four weeks before new tenants were found – reflecting continued demand for rented property.
Costs, tax change and regulatory factors are the factors most likely to explain landlords behaviours and business decisions over the last twelve months.
Plans for the next 12 months
The long-term trend in landlords reporting they will sell property is continuing on its upward path:
Over a third of landlords state they are planning to either reduce their portfolio or exit the PRS market altogether.
The proportion of landlords looking to expand has fallen, though the trend is not as discernible.
The gap between those planning to buy and those planning to sell is getting larger.
The Landlords' Confidence Index is based on the responses of approximately 2,000 landlords.
The data is collected as part of the NRLA's quarterly reports.
Landlord Confidence Index Q3 2019
Last updated: 29/06/2020 at 15:20 - 4.03 MB
Download