Landlord Confidence Index Nick Clay 12/02/2020
Landlord Confidence Index (LCI) No.4: 2019 Q4
Our Landlords' Confidence Index (LCI) aims to provide a snapshot of landlord confidence.
The LCI attempts to capture the motivations underpinning landlords' key business decisons.
It is being produced at a time when landlords face pressure from government: Tax changes, new regulations and the threat of adverse legal reforms are now threatening the supply of homes in the Private Rented Sector (PRS).
Page 1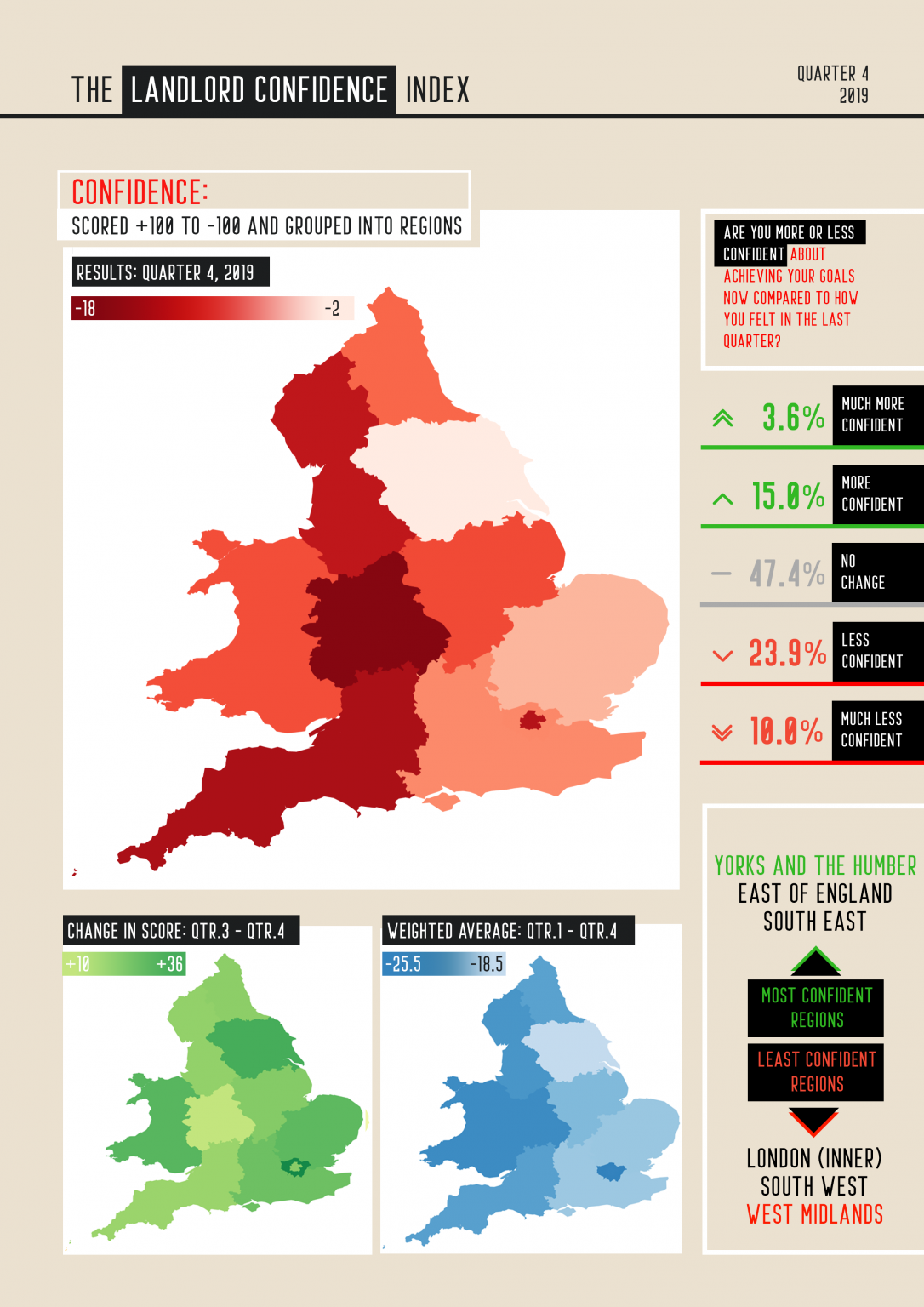 Page 1
Landlord Confidence – Main Chart
In Quarter 4 there continued to be a greater proportion of landlords feeling less confident about achieving their business goals than were feeling more confident:
About twice as many landlords were either "less" or "much less" confident (33.9%) compared to 18.6% who stated they were "more" or "much more" confident.
The difference between those "less/much less confident" and those "more/much more confident" has however narrowed.
Landlord confidence – Sub-Charts
The Confidence Index scores across all regions in England, as well as in Wales have risen since the Qtr 3 survey was conducted.
There are still no regions in which those more confident are greater in number than those who are less confident.
Yorkshire & the Humber was the region with the highest LCI score (-2.9), the West Midlands (-17) was the lowest scoring region. 
Yorkshire & the Humber are also the highest scoring region on the Weighted Index (-18.7).
Though London as a whole, and Outer London specifically, have seen the largest increases in confidence between Qtr 3 and Qtr 4, these two regions were still had the lowest scores in the weighted index (-25.3) just ahead of Inner London (-25.2).
Page 2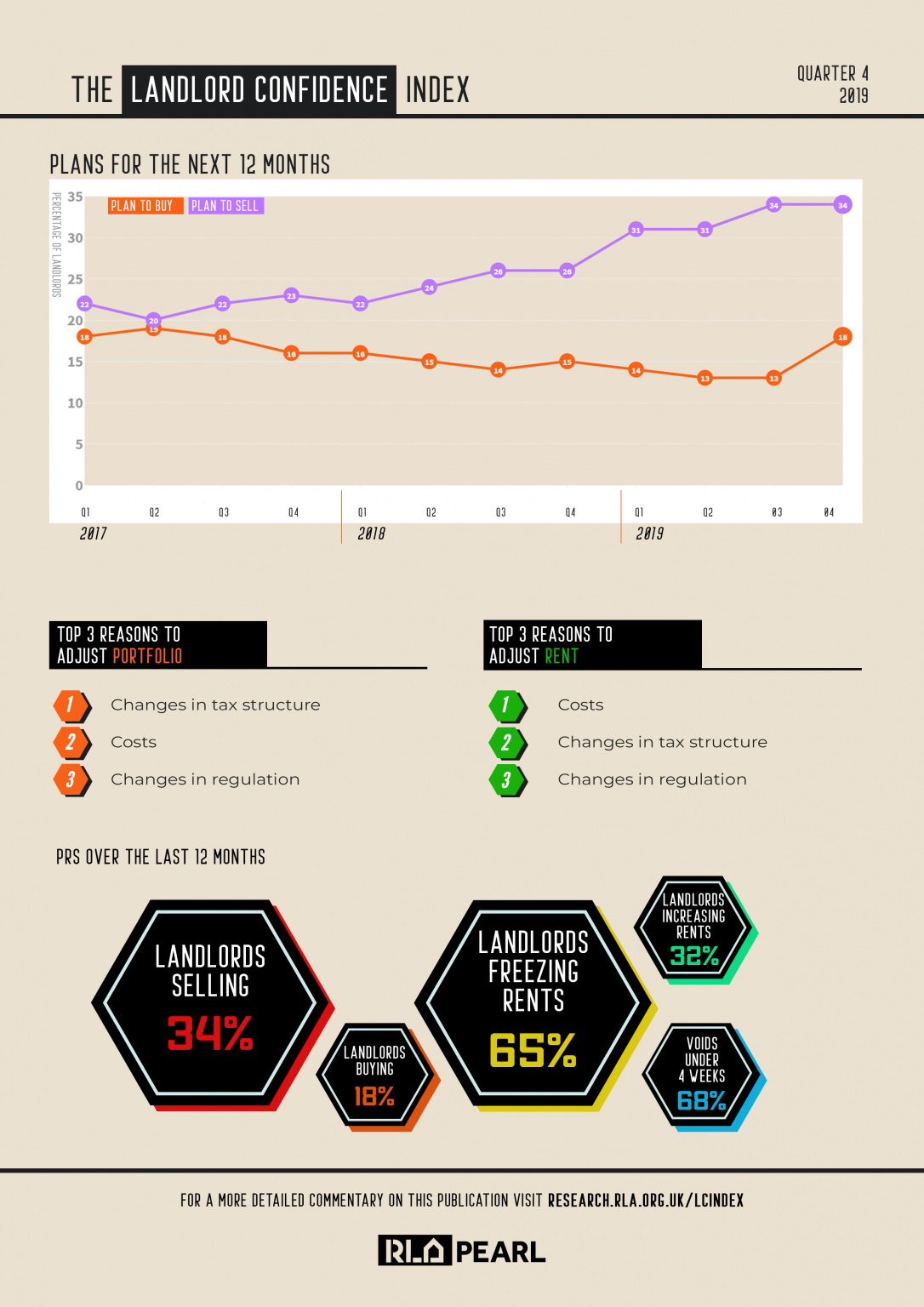 Page 2
Plans for the next 12 months
Landlords planning to sell (34% of all landlords surveyed) continue to outnumber those existing landlords planning to invest in more property (18%)
The difference in proportions has narrowed. It last narrowed in Qtr 4 2018 and before that in Q1 2018 – so at least some of this narrowing may be a result of seasonal effects.
The reasons for change continue to reflect the negative drags on landlord activities – cost, taxation and regulatory change.
It is still too early to suggest landlords are becoming more optimistic about their future propsects.
PRS over the last 12 months
Over the last twelve months:
More landlords had sold off part of their portfolio than had bought.
Around two-thirds of landlords had frozen rents over the last twelve months.
Over two-thirds of landlords reported that on a tenant leaving the property it took just four weeks or less for a new tenant to be found.
This is evidence which indicates that, in spite of high demand, landlords do not have confidence to raise rents consistently.
The Landlords' Confidence Index is based on the responses of over 1,600 landlords.
The data is collected as part of the NRLA's quarterly reports.
Landlord Confidence Index Q4 2019
Last updated: 29/06/2020 at 15:13 - 4.09 MB
Download