Special Report Aidan Crehan 21/05/2021
The Welsh Enforcement Index
Introduction
In late 2020, the NRLA (National Residential Landlords Association) Research Observatory began to collect data and evidence on how enforcement powers available to Welsh local authorities were being deployed in the Private Rented Sector (PRS). It is intended to be a follow-up to the NRLA's recent review of Rent Smart Wales. The focus of this study was slanted towards mandatory and discretionary licensing, and the efficient, effective and economic enforcement of existing regulations.
Among the questions posed in this research:
Are local authorities enforcing regulations in a consistent manner?
Are resources which specifically address the PRS being applied between local authorities in a comparable manner?
Can a link be made between enforcement and the experience of being either a tenant or landlord in the PRS?
Aims & Objectives
This project looked to identify data collected in each Welsh local authority to enable reasonable comparison. Further, to combine data collected in each local authority into a single league table of performance, independent of the size of each local authority. The league table provides an easy-to-understand comparison between local authorities.
Data collection & analysis
The data for this project was collected through Freedom of Information (FOI) requests. The research identified the following key fields for which data is collected in a common format in each participating local authority across Wales:
No. of staff (Full time equivalent (FTE)) dedicated to enforcing PRS standards in each local authority.
No. of complaints received by each local authority about the PRS.
Time taken to process a licence.
Cost of a licence in each local authority.
Existence of a recent local authority Stock Condition Survey.
Presentation of results
Analysis of the above data and associated metrics allowed the researchers to form one central league table. To aid analysis, alongside the league table, scatter plots comparing key metrics against each other have been generated. The two methods combine to identify good practice and high-performance standards, irrespective of local authority size.
Five local authorities did not respond to the FOI within the three-month timeframe and so scored "zero" across each metric.
Results
The final league table from the first Welsh Enforcement index exercise is set out below: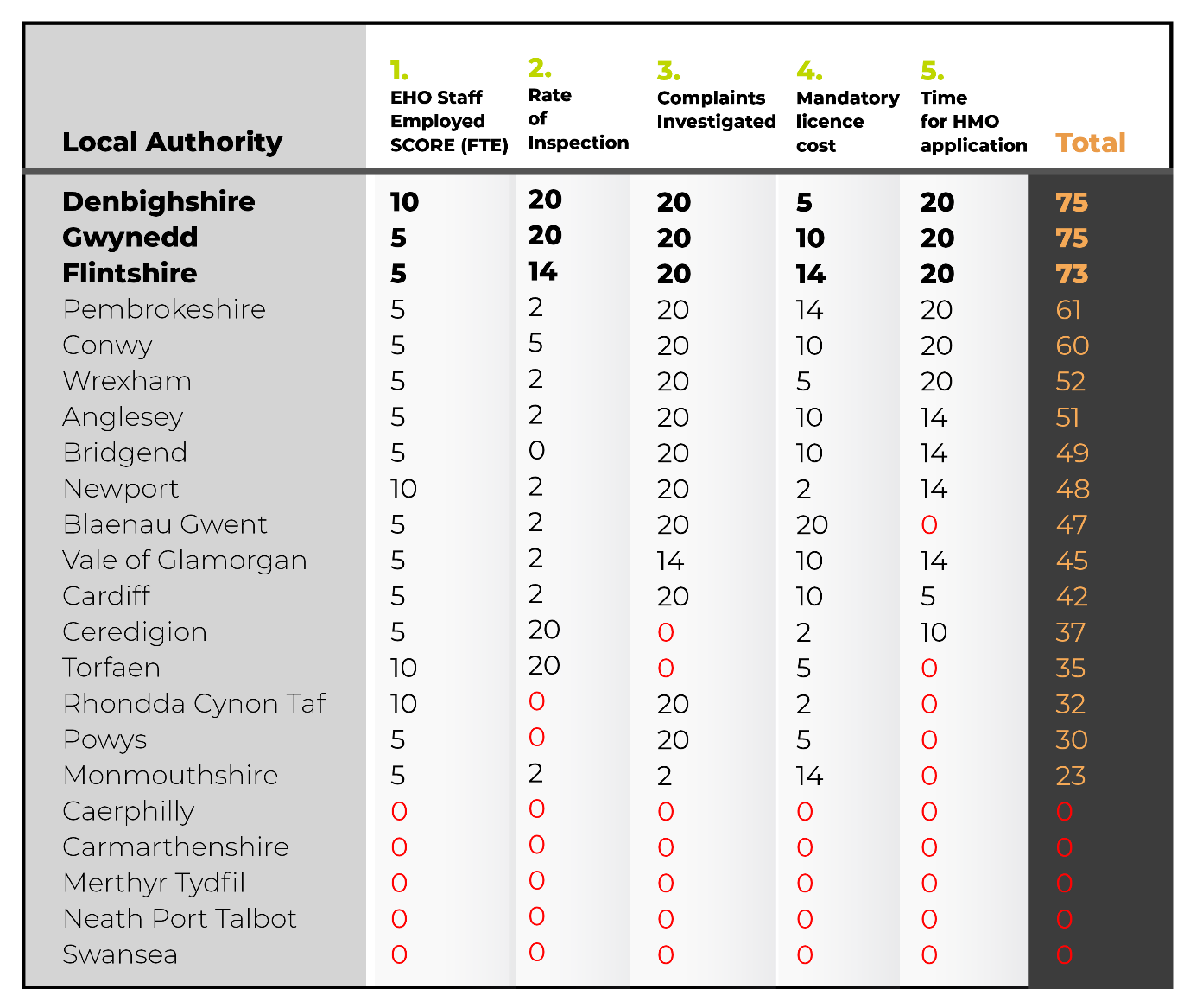 In the scatter plot analysis Flintshire was the only local authority which consistently outperformed standardised measures of performance across each metric.
Key conclusions
The results show:
Flintshire Gwynedd and Denbighshire all reached high scores in comparison to other authorities, scoring highly across several metrics. Flintshire was the outstanding performer in the scatter plot analysis.
There was some geographical alignment in performance, with 6 of the top 7 in the league table all North Wales authorities.
Ceredigion, Monmouthshire and Newport achieved the lowest scores across both methods (league table and scatter plot) of analysis.
The overall aim of the research is to see whether local authorities apply existing enforcement powers effectively or whether new powers of enforcement are needed. From the analysis it can be concluded:
The data shows a lack of consistency from Welsh local authorities in enforcement. Each local authority performed poorly in at least one key metric.
This research highlights a disjointed, variable approach (a postcode lottery) in the enforcement of licensing duties across Wales.
As the licensing authority for the entirety of Wales, the NRLA suggests Rent Smart Wales should act as a regulator. It should be independent from any one local authority, and be given a brief to address these inconsistencies, outline good practice and recommend service levels.
Next steps
In March 2021, the NRLA research observatory began collecting data for the second round of Welsh-specific analysis. This research will continue to focus on enforcement, drilling down further into enforcement powers.
The NRLA also intends to use the lessons learned from this pilot research project to spread this research out to all 343 local authorities in England.
Report
Below are two download links to the Welsh Enforcement Index. You can find the full report or the Executive Summary.
The Welsh Enforcement Index
Last updated: 20/05/2021 at 11:06 - 547.04 KB
Download
The Welsh Enforcement Index Executive Summary
Last updated: 20/05/2021 at 11:00 - 612.75 KB
Download