Accreditation Overview
Accredited landlord members are able to demonstrate their knowledge, training, skills and intentions to manage properties and tenancies in line with best practice, helping build their reputation with tenants and Local Authorities.
The scheme is designed for individual landlords of private residential tenancies, and is only available to NRLA members.
Members need to earn 5 standard CPD points each year, which can be earned via attending NRLA training, NRLA webinars, reading our Property Magazine, and from relevant external course, meetings and conferences.
The NRLA (from August 2020), records when members attend events, meetings, training, and webinars, therefore some members may be accredited straightaway.
Benefits of landlord accreditation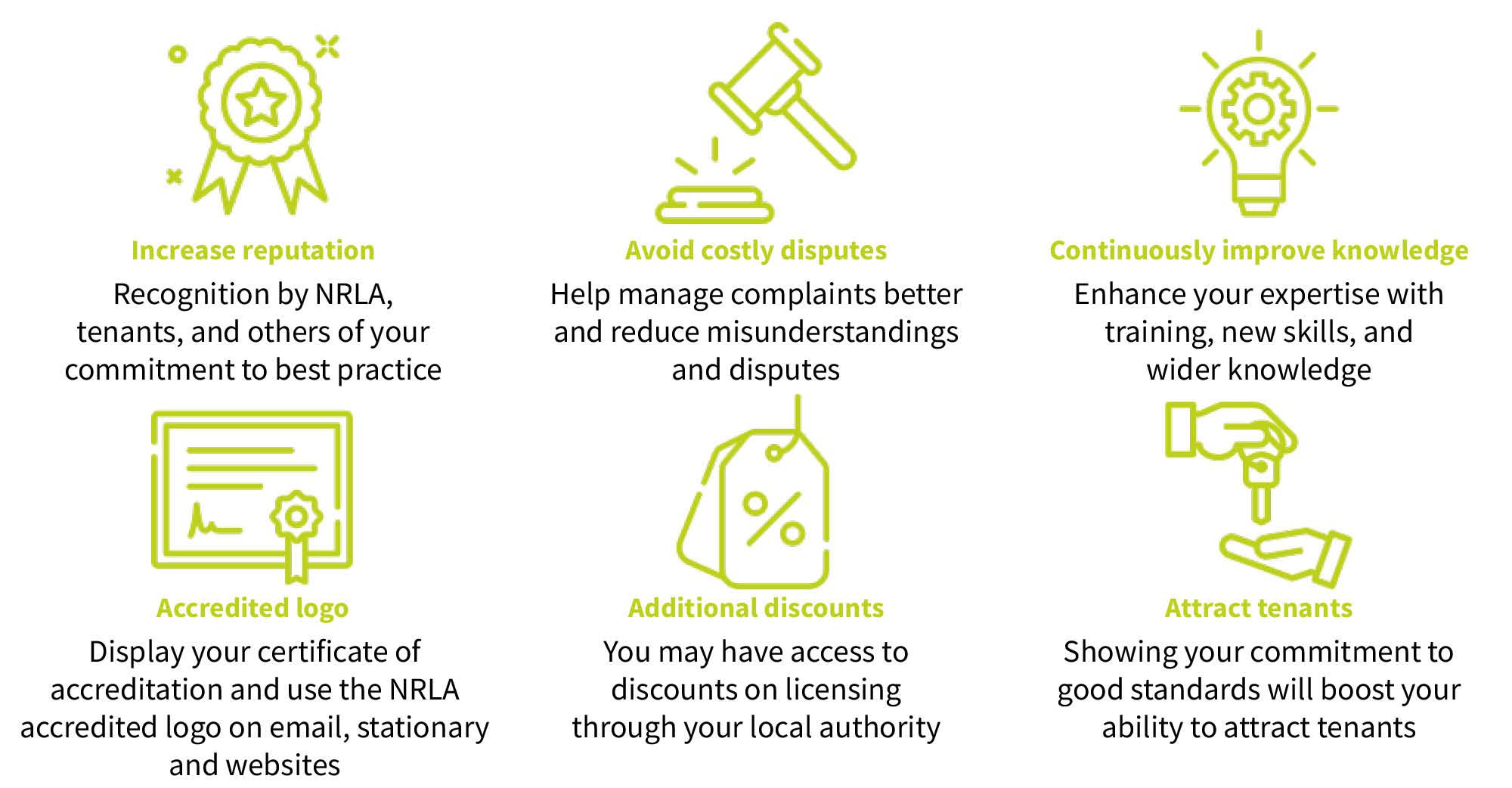 What our accredited members say
Accreditation increases my confidence that I am complying with all the necessary legislation and doing my best as a landlord.

NRLA member
I believe being accredited provides tenants and potential tenants that I am an honest landlord; it is a statement that I am professional and take my role seriously.

NRLA member
Frequently asked questions
How do I become accredited? 
Your full membership of the NRLA (National Residential Landlords Association) entitles you to apply to join the NRLA Accreditation Scheme. Make application through the Accreditation Dashboard - agree to scheme Terms and Conditions and our Code of Practice – submitted a Fit and Proper assessment – you are now Registered with the accreditation scheme. Successfully complete a 'Core' training course and you will now be an Accredited NRLA Member.
How does it work?
There are three elements to accreditation:
Full NRLA membership
'Core' Training or recognised equivalent
The addition of relevant qualifying activities added regularly to your account
Training and relevant activities carry continuous professional development (CPD) points – meeting the minimum requirement of 5 'Core' and 5 standard CPD points each year ensures continued accreditation. 
How to remain accredited?
Maintain your NRLA membership.
Ensure you have 5 active 'Core' CPD points attached to your account – 'Core' CPD are valid for 5 years and form the foundation for accreditation. 
Add an additional 5 standard CPD points to your account each year to maintain your accredited status. 
Before the end of the fifth year, complete a further 'Core' training activity. 
Can my associate be accredited if I have done the course?
No – accreditation is bestowed on the individual who completes the relevant 'core' training course. If an associate needs to be recognised as accredited, then they will need to complete the application process and obtain and maintain the appropriate CPD points.
Does this cover my business?
NRLA Accreditation is designed for individuals – we accredit members in the same way as we offer membership benefits to named individuals. We do not accredit limited companies, partnerships, or trusts. 
How do I log CPD Activities?
Most NRLA activities booked online through your NRLA membership will register automatically on your CPD record. If you undertake external qualifying tasks, these will need to be claimed through your Accreditation Dashboard – 'Add CPD Activity.' All relevant activities will be considered but should maintain, improve, or increase your understanding of your responsibilities to the NRLA Code of Practice.
How long do the courses take to show up on my CPD log?
A course booked through your NRLA membership should appear under 'Pending CPD Activities' in your Accreditation Dashboard. Once satisfactorily completed and usually within 3 working days, the entry will move to 'Valid CPD Activities' and your accreditation record will be updated to reflect your achievement. 
How does CPD approval work?
If a CPD event has been added to your NRLA record via an online booking the entry will update, usually within 3 days, once the task is complete. Activities that are claimed manually are usually reviewed at least once a week and your record will be update once that review has been completed. 
What access is there to partner schemes and local benefits with NRLA Accreditation?
Many local authorities and partners recognise accredited members as having demonstrated an understanding of the minimum standards required for property rental in the PRS (Private Rented Sector). They are therefore happy to provide access to benefits which might otherwise be unavailable to non-accredited members. Access to these benefits can usually be evaluated through the partners website or by local contact.