Landlord Redress Services
Dispute Resolution Services to help you save time, money, and hassle!
If you've signed up to our Landlord Redress pilot scheme, both you and your tenants can access FREE dispute resolution, an independent service that deals with escalated complaints, using conciliation and arbitration techniques, to reach a fair outcome.
The NRLA has partnered with the Property Redress Scheme (PRS) and The Dispute Service (TDS) to pilot redress services for private landlords with members.
This pilot offers all of the benefits of independent dispute resolution for no additional cost whilst giving NRLA members the opportunity to directly shape future government regulation of our sector.
The performance of this scheme and participation by NRLA members will help directly inform ministers' thinking about the design of forthcoming mandatory dispute resolution.
How does it work?
When an issue is raised with the redress scheme the first step will be for an impartial case assessor to look at what attempts have been made to resolve matters to date and contact both parties to try to negotiate an 'early resolution.' This is similar to mediation and may involve signposting to appropriate resources or advising about best practice.
The majority of disputes are likely to be handled by 'early resolution' alone and no further investigation will be required.
If an early resolution isn't possible, the case examiner will invite both parties to provide further evidence to support the complaint and demonstrate actions taken. This evidence will be used to assess the validity of the claim, the efforts made by both parties to find a solution, and make a decision about any potential further remedial actions which may be required, and if sanctions would be appropriate.
What kind of complaints will the scheme help with?
Complaints will be assessed against the NRLA's code of practice, which covers the marketing of a property, creating and managing tenancies, and ending a tenancy. Complaints which may be covered by another dispute resolution process, such as tenancy deposit disputes, will not be accepted and parties will be signposted to the appropriate alternative dispute resolution process.
Benefits of using Landlord Redress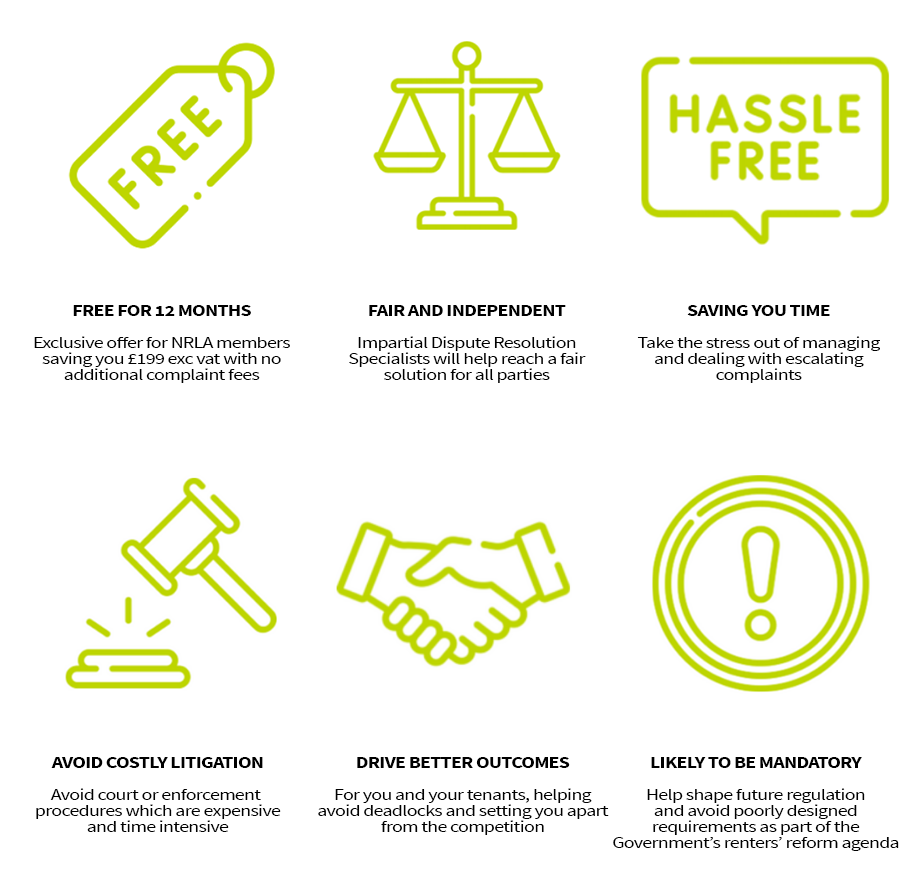 FAQ
What is redress?
Redress, in its simplest form, is a means of remedying a situation when things go wrong.
Between a landlord and a tenant, this might involve finding solutions to issues surrounding poor communication, a repair complaint that doesn't have an obvious solution or a disagreement about a tenancy to which both parties have been unable to find an amicable solution without help.
It is an alternative to using the Courts and the complainant must have attempted to reach a resolution before contacting the redress scheme.
How much does it cost?
The landlord redress pilot if free for members for one year (until 31st March 2023). Additionally, there will be no fees charged in respect of complaints raised during the trial.
How can I take part?
This offer has now ended – it is only open to members who signed up by 19th April 2022.
What happens at the end of the 12-month pilot?
The NRLA and its partners will evaluate the success of the pilot before the end of the initial year, consulting with participants to assess whether to roll out redress more broadly. All participants will be kept informed.
There will be no obligation to continue in membership or to take any further action, but we hope that the benefits of landlord and tenant redress will demonstrate the advantages of being part of a scheme.
Do other housing professionals have to join redress schemes?
Yes, all letting and managing agents have been required to maintain membership of a scheme since 2014.
Redress services are common in other industries and are generally recognised as providing benefits to businesses and consumers.
How will landlord and tenant redress be fair?
The scheme has been designed by the Property Redress Scheme, an independent and impartial resolution provider which is authorised by the Department for Levelling up, Housing, and Communities (DLUHC) and National Trading Standards Estate and Letting Agency Team (NTSELA) to provide redress services to letting and managing agents. It is further scrutinised by an advisory council to ensure impartiality.
Background to the pilot
The Government has announced its intention to introduce mandatory landlord and tenant redress in the private rented sector, to bring landlord-managed tenancies in line with those managed by an agent (where redress is already a requirement).
The NRLA believes that alternative dispute resolution has a significant role to play in smoothing complaints handling between landlords and tenants and reducing our reliance on costly and time-consuming court processes to resolve issues.
The last few years have demonstrated the way that court restrictions and delays can damage lettings businesses and it is important that as the private rented sector evolves, we find ways to learn from other industries where court action is only ever a last resort.
Landlord and tenant redress is a valuable tool for finding alternative ways to resolve disputes and improve the reputation of private renting.