Campaign - Possession Reform
Last year, the Welsh Government announced its intention to reform possession law in Wales. It has decided to press forward with its proposals – which it consulted on last summer – in the form of the Renting Homes (Amendment) Bill. The proposals are:
Extend the minimum notice period required under a Section 173 notice – this will replace Section 21 once the Act is commenced – from two months to six months.
Restrict the issue of a S173 notice until six months after the date of issue of a contract (as opposed to four months as currently set out in the Act).
Restrict the issuing of a S173 notice for six months after the expiry of a previous notice.
Remove a landlord's ability issue a notice, during a fixed term standard contract, to end the contract at the expiry of the fixed term (under S186).
Restrict the use and ability to include break clauses in contracts of a certain duration.
The Bill will amend the Renting Homes (Wales) Act 2016 before it is commenced. When the Bill passes, the amended 2016 Act will come into force before the 2021 Welsh Parliament election on 1 April 2021 as the Welsh Government intends.
NRLA Wales Priorities
The increase in demand for housing and the cost of property in Wales and the UK has seen more and more people look to the private rented sector (PRS) for a home. With this increase in demand comes an increase in scrutiny, bringing with it wholesale changes to the way people rent in Wales. Some of these are welcome - indeed long overdue - however the rate of change is taking its toll on landlords, with three major pieces of legislation introduced in the last six years alone. We know there are criminal landlords out there but we believe the Government should be taking positive, targeted action to identify and prosecute these people, rather than introducing more blanket legislation which only serves to penalise the vast majority of good and compliant landlords. This is vital if we are to maintain a vibrant and well-functioning PRS.
NRLA Wales is committed to improving the image and perceptions of PRS landlords, working with government to shape legislation that will support them, at the same time as protecting tenants and improving standards. We believe this can be done by:
1. Streamlining licensing
Establishing Rent Smart Wales (RSW) as the single licensing authority and the introduction of Fitness for Human Habitation (FFHH) standards means landlords are already being held to the highest of standards. Despite this, local authorities still have the power to introduce extra licensing schemes. NRLA Wales believes that the presence of RSW and FFHH is sufficient when it comes to regulating the PRS and additional, unnecessary, "stop-gap" local licensing schemes should be abolished with the necessary added requirements on certain properties and their landlords incorporated into RSW and FFHH. This would free-up resources to be spent on enforcing existing regulations designed to tackle criminal landlords and improve property conditions.
2. Supporting landlords and tenants
Homelessness is a growing issue and to tackle it there needs to be support for both landlords and tenants. With vulnerable people becoming increasingly dependent on the PRS for housing, the public sector should be supporting them with the same services and attention as those in social housing. In the same way we would like to see the Welsh Government, NRLA Wales, third sector organisations, local authorities and RSW work together to provide landlords with the resources and knowledge to help their tenants stay in their homes.
3. Improving private rented housing stock
There is a minority of PRS housing stock that is not meeting basic safety standards and we are committed to doing everything we can to support landlords to upgrade these homes, be it through advice or identifying funding sources or grants.
4. Using empty properties to rebuild communities
Empty properties are a blight, yet if brought back into use could not only provide vital homes but boost local economies. We believe landlords who want to provide a public service by taking on empty homes to bring back into use as rental properties should be empowered to do so.
5. Trusting evidence that proves rent controls don't work
Rent controls have been a proven failure across the world. Evidence from a variety of sources shows that controls make it harder for renters to find an affordable home, while encouraging rent rises, adversely impacting on housing conditions and forcing landlords to leave the market, further cutting the number of homes available to rent.
6. Resisting Right-to-Rent
The scheme requires landlords to check that all tenants who occupy their properties have legal status to live in the UK. This means that before you can rent a home in England, a landlord or letting agent must undertake document checks prior to letting out the property. The NRLA argues this forces landlords to act as border guards and its arguments helped persuade the High Court that it breached human rights law – a ruling subsequently successfully appealed by the UK Government. Currently, right-to-rent rules are only in place in England but NRLA Wales opposes the expansion of the scheme to the devolved nations and is calling for the policy to be dropped altogether.
7. Improving justice for landlords and tenants
It is vital landlords have means of repossessing their property in legitimate circumstances and for tenants to hold bad landlords to account. The current court system is far too slow and it is vital a new dedicated housing court is established.
8. Introducing tenant passporting
A tenant passport, holding live data including credit ratings, employment status and references would help both landlords and tenants when it comes to securing a property quickly and easily. Similarly deposit passporting – moving a deposit from one property to another – means tenants will be able to move home without having to raise a 'second' deposit before their first one has been returned. The NRLA believes both schemes will help tenants and landlords alike.
9. Expanding the Evidence Base for Housing
Research on the PRS in Wales is very limited and as a consequence, policymaking is often made based on anecdotal evidence. We believe the more independent, comprehensive research that exists, the more positive perceptions of the PRS will become as misconceptions are challenged. It will also provide the ability to create comparable data sets to assess how Wales performs relative to the rest of the UK.
Latest campaign news
The latest news on the NRLA Wales' campaigns:
In its first week since the summer recess, the Welsh Parliament has seen the private rented sector (PRS) and housing take centre stage, at least for those who follow its proceedings closely. In this blog, NRLA policy officer Calum Davies explains more.
Insights and Opinions Calum Davies 17/09/2020
Landlords in Wales must give tenants six months notice by default of their intension to gain possession in most cases until 31st March 2021, Welsh Housing Minister Julie James announced today. The temporary extension to the notice period had been due to expire at the end of this month. However there are some concessions to the new notice period following extensive NRLA campaigning.
Breaking News Victoria Barker 15/09/2020
From today, landlords and letting agents in Wales will be able to point tenants struggling with rent, income, or housing benefits in the direction of a new independent advice service.
Industry News Calum Davies 01/09/2020
The Shadow Welsh Housing Minister Mark Isherwood MS has called on the Welsh Government to introduce more support for private landlords in the country. Mr Isherwood called for a greater understanding of the need to protect both tenants and landlords.
Industry News Victoria Barker 25/08/2020
NRLA Wales policy officer Calum Davies writes about the latest on the NRLA's campaigning in Wales including the recent win on Tenant Saver Loans and the Shadow Housing Minister in the country backing the NRLA's calls.
Insights and Opinions Calum Davies 25/08/2020
Share your story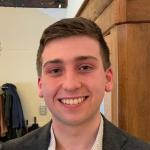 Calum DaviesWelsh Policy & Public Affairs Officer.
Calum Davies is the Policy & Public Affairs Officer for NRLA Wales. After working in communications and research for a political party in the Welsh Parliament, Calum moved to the NRLA to promote the work of the Association to members, politicians and stakeholders in Wales.
He ensures they are aware of landlord interests when they legislate and regulate in the PRS, helps run the Cardiff Landlord Forum and develops policy and organises events for NRLA Wales.