Industry News Sally Walmsley 22/10/2021
NRLA magazine scoops top industry award
The NRLA is celebrating yet again after members' magazine Property was named Property Trade Magazine of the Year at the Property Press Awards this week.
Chief Executive Ben Beadle and the team received the award from property expert, TV's Phil Spencer in a ceremony at London Museum on Wednesday.
The publication was named on the winners list alongside publications including The Times property supplement and Which?
Zoe Dare Hall, one of the freelance writers who contributes to the magazine, also scooped three awards on the night - including freelance property journalist of the year.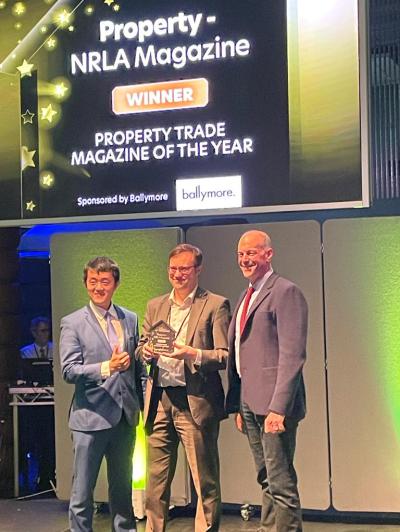 This is the third accolade the magazine has picked up this year, scooping Gold at the National Association Awards and Bronze at the Association Excellence Awards.
It has also reached the finals of the Independent Publishers Awards, with winners to be announced next month.
Ben Beadle, NRLA chief executive said: "I was delighted to receive the award on behalf of Property magazine - our third in recent months - and would like to thank the team for their hard work over the last two years.
"We remain committed to bringing you the very best in inspirational member stories alongside the latest on our campaigns and research work, legislation updates, practical advice and deep dive features on the issues affecting you and your lettings."
The next magazine is due to hit doormats next month. Back copies of the magazine are also available to be read electronically here.
Captions: NRLA Chief Executive Ben Beadle (centre) is pictured at the awards ceremony with awards host Phil Spencer (right)