Landlord Confidence Index Nick Clay 17/02/2021
Landlord Confidence Index (LCI) No.8: 2020 Q4
Page 1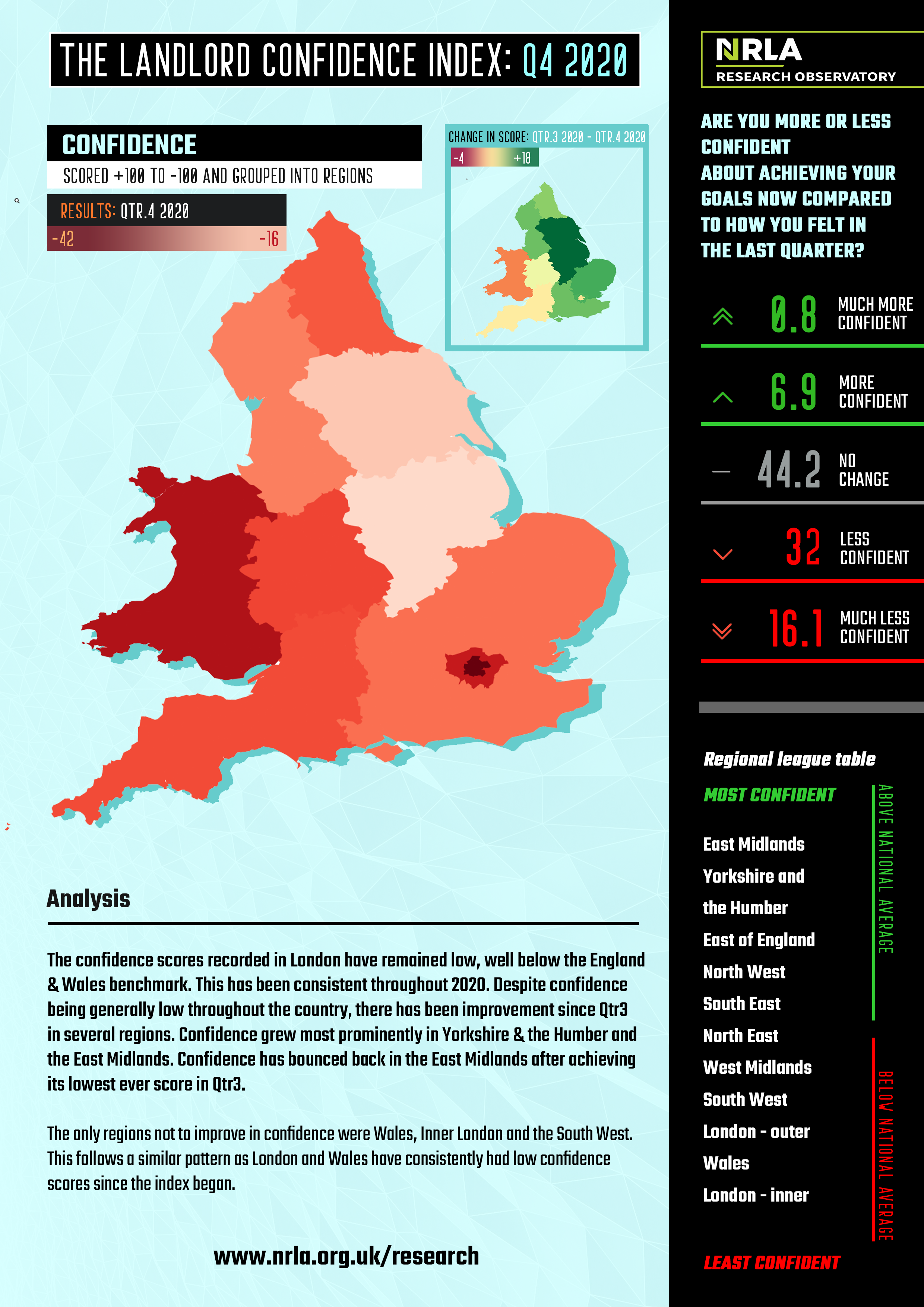 Page 1 - additional commentary
Main chart
Nationally the Landlord Confidence Index (LCI) scored -27.8 for Quarter 3. The negative score indicates ongoing pessimism among landlords for the future prospects of the Private Rented Sector. Confidence is however higher than in the previous quarter (-34.2).
Unlike 2019 Qtr 4 - the last time Confidence rose across England and Wales - this time the improvement in the score has been a result of a shift from "less confident" and "much less confident" to a more neutral position.
Unlike the nationwide leap in confidence of twelve months ago, this time any improvement has typically been more marginal except in the East Midlands and in Yorkshire and the Humber. In these two regions confidence has grown more notably than elsewhere.
Page 2
Page 2 - additional commentary
Reasons to change
When asked about the reasons to adjust portfolio size, there is a consistent pattern. Costs, taxes and regulation feature regularly in this analysis. They are – not surprisingly - most likely to feature as reasons why landlords are reducing or planning to reduce portfolios. Around half of all landlords who are in this selling frame of mind will cite each of these reasons.
Among those selling AND citing regulatory change as a key reason, almost half identified possible reforms to Section 21 as key. Mortgage Interest Relief (MIR) and Capital Gains Tax (CGT) feature as the main tax concerns which overshadow the decision to reduce portfolios.
Among buyers, there is, naturally, more optimism. Not just in the general economic outlook but also that local property market conditions are picking up. The availability of cheap finance is also a key driver of the decision to enlarge portfolios.
On rent change, the importance of the relationship with the tenant has appeared in the "top 3" factors for the second time in 2020. Note that among the group of landlords who had kept rents the same over the last twelve months – which is the largest group (73% of landlords freezing rents) – the relationship with the tenant was the biggest driver in that decision.
Views on demand change
This measure of demand change is simply a net difference score of landlords noticing an increase versus a decrease in demand for their property. Note that only landlords who have been seeking tenants recently are included.
Nationally the score is just about positive, with a noticeable drop this quarter compared to Quarter 3 (which was then +12.3). London however is again the big story on confidence: There has been a similar drop in sentiment among landlords with London portfolios since Quarter 3 when the net sentiment score was –26.8. Net confidence is clearly negative among landlords in the capital.
Intentions to buy or sell
For the third quarter in a row there has been an uptick in the proportion of landlords planning to buy in the next twelve months. The proportion planning to buy remains considerably lower than the proportion of landlords planning to sell. Three-in-ten landlords (30%) stating they will reduce their portfolios.