Less Tax 4 landlords is a specialist multi-disciplinary consultancy that helps portfolio landlords maximise the commercial benefits of building, running and growing a recognised professional property business.
Contact Less Tax 4 Landlords for landlord business advice on areas including:
Advice on Section 24 for portfolio landlords paying higher rates of tax
Business structure, re-structure, and planning support for portfolio landlords running (or looking to run) professional property businesses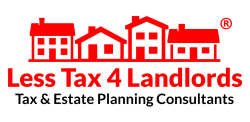 Typically, Less Tax 4 Landlords can help you if you:
Own rental property in personal names,
are (or would otherwise be) higher or advanced rate taxpayers,
are a portfolio landlord with 4 or more properties and in excess of £50,000 Gross Rental Income
are looking to build, run, and grow a professional property business which is capable of being passed on intact to future generations.
or you have the means, motivation and opportunity to get there and beyond with a protective structure in place
If the above applies to you then you're almost certainly paying more tax than necessary on your property income.
Start by taking our free property business tax assessment and see if we can help you benefit financially from running a recognised property business.
Key Services:
Business planning
Tax consultancy
Legal work
Accountancy
Business Succession Planning
Planning Estate Succession Training
Wealth Management
Education and Private Networking Opportunities
Please note that Less Tax For Landlords provide these services as part of of a comprehensive package and do not currently offer them in isolation.
Member Offers:
One year's free upgrade to NRLA Business Membership for Less Tax 4 Landlords clients - Dedicated NRLA Member only events
Please note that any contract for the supply of goods/services will be made between you and the provider of the goods/services; not with the National Residential Landlords Association or any of its associated companies. The NRLA has no liability in relation to any contract entered into by you as the NRLA only acts as an introducer.