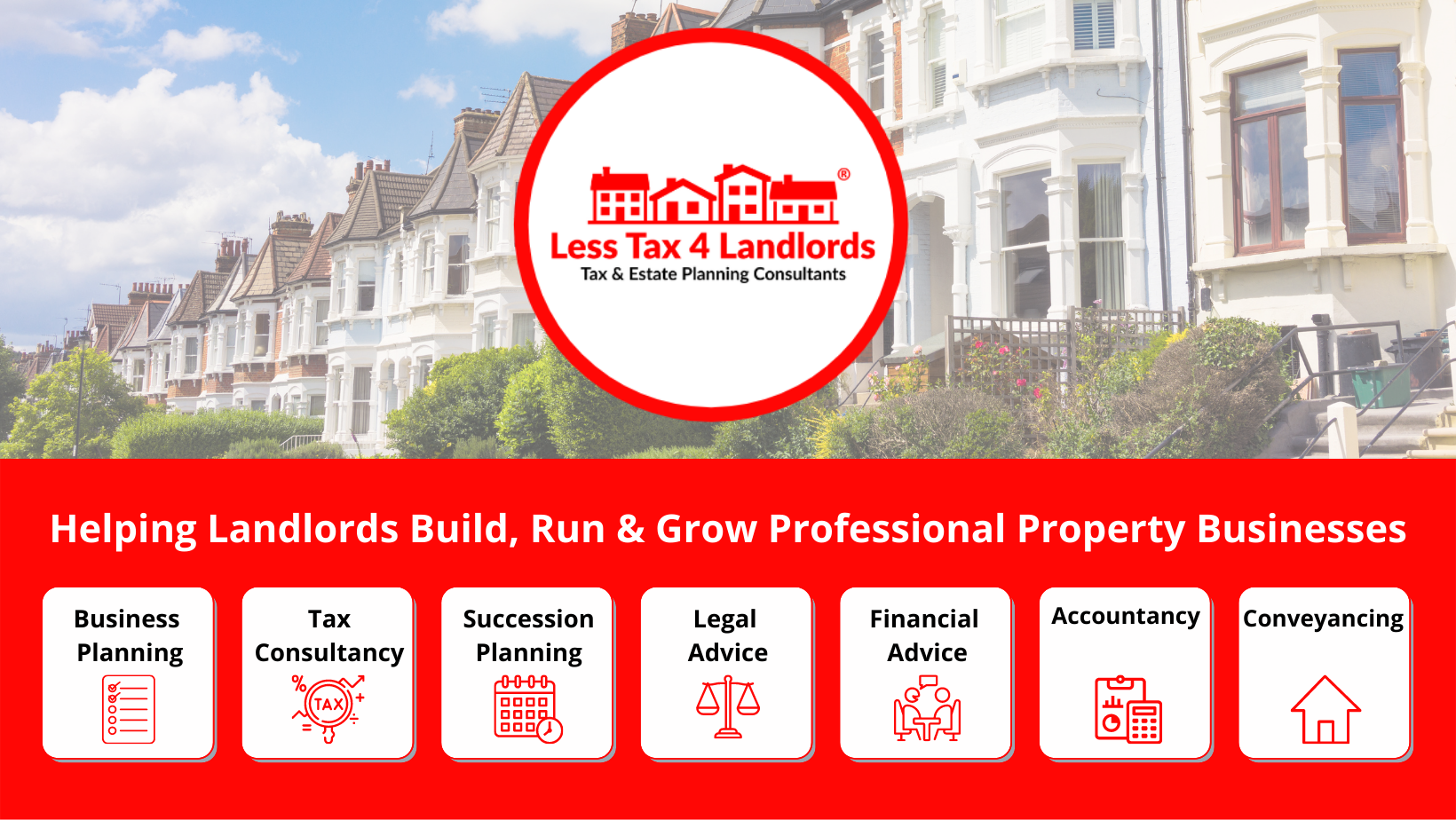 Structure your Property Portfolio as a Business
As an NRLA recognised supplier, Less Tax 4 Landlords is about helping landlords maximise the benefits of building, running and growing a professional property business and we offer all the specialist services a landlord could need under one roof.
By taking professional advice to restructure your property business, you could enjoy:
A lender-friendly business structure suited to your needs
Seamless succession planning and protection from marital break-up
No need to remortgage or change title (and no CGT or Stamp Duty)
Plus, depending on your business requirements:
Full relief for finance & mortgage costs (Section 24 Tax Changes)
Reduced Capital Gains Tax (CGT) on Portfolio Reinvestment
Inheritance Tax typically mitigated within 2 years of trading
Maximum Tax rate of 20% payable on your property income (25% from 2023)
We work with landlords looking to build professional businesses and in fact, by working with us over the long term, and providing it fits with your goals and aspirations, we would expect you to significantly increase your business profits.
The result? More money in your pocket, and more tax paid – not less!
As an NRLA member, we offer up to £170 discount on our consultancy services (see more below).
Start by taking a free initial assessment today!
Two Ways to Save Tax
LT4L Free Resources for Landlords
If you're not quite ready to take an assessment but still want to learn more about tax planning and how to better structure your property business, then we recommend you start by watching this video titled 'Your 4 Options as a Portfolio Landlord' or you can go straight to our exclusive subscriber-only Video Vault which includes this video and a further 604 minutes of on-demand videos.

Did you know we offer exclusive discounts to NRLA members?
£85 discount on your first purchase of consultancy services from Less Tax 4 Landlords* (Your NRLA membership fee paid for one year)

Plus, save an additional £85 when you spend £1500 or more in total (Your NRLA Membership fee paid for another year!)

NRLA Business Member? Go on to become a Package Client of Less Tax 4 Landlords and receive an additional £170 discount (Your Business Membership fee paid for another year)
Start by taking a free initial assessment today!
*Discount not available on services provided by our sister companies.
Articles
Since the introduction of Section 24, many landlords have restructured property ownership to protect themselves against tax changes, however this doesn't necessarily have to involve a change of ownership. Recognised Supplier, Less Tax 4 Landlords, gives us their insight.
Partners and Suppliers Ben Rose 25/07/2022
The Income Tax Act 2007 (section 836) allows for income from properties that are jointly owned by married couples or civil partners that live together, to be legally split 50/50. However, whilst most landlords are aware that income can be shared equally by married couples for tax purposes, we receive many phone calls at Less Tax 4 Landlords from landlords who are not aware of the possibility to make changes to this arrangement.
Partners and Suppliers Ben Rose 24/06/2022