NRLA Wales
The NRLA Wales team is based in Cardiff and represents the interests of private rented sector (PRS) landlords by maintaining good working relationships with the Welsh Government, Members of the Senedd, councillors, Rent Smart Wales, and other stakeholders in the housing sector. We also speak directly to landlords by facilitating select landlord forums.
In using its powers, the Welsh Parliament has passed three signifcant pieces of legislation governing the PRS in the last few years: the requirement to register and/or licence was brought in by the Housing Act 2014; wholescale reform is soon to come into force by the yet-to-be-implemented Renting Homes Act 2016; and the tenant fees were banned in 2019. Currently, the Welsh Government is taking a possession reform Bill through the Senedd which will significantly change the evictions regime in Wales.
NRLA Wales is here at every stage to ensure policymakers are aware of the issues affecting landlords and that their interests are heard as we aim to make the PRS work for both tenants and landlords.
Coronavirus
When the Covid-19 outbreak came to the UK, the devolved administrations followed the steps of the UK Government fairly closely. However, there has been some divergence between the UK Government and the Welsh Government in dealing with the pandemic.
Here, we detail some of the key differences and give further information on what the Welsh Government and local authorities are doing that landlords should know during the pandemic.
NRLA Wales Manifesto 2021
Now that the Senedd election is over, NRLA Wales will continue to push its manifesto calls for the next five years. NRLA Wales is committed to working with government, and all of those parties and politicians seeking to represent local communities, to shape legislation that benefits both landlords and tenants while improving standards across the sector. We believe this can happen by:
Streamlining licensing
Supporting landlords and tenants
Improving homes
Introducing a Welsh Housing Survey
Improving justice for landlords and tenants
Rejecting rent controls and Right-to-Rent
Rent Smart Wales: The Accountability Gap
The NRLA published a report in January 2021, Rent Smart Wales: The Accountability Gap, to review RSW's performance as the body marks its fifth anniversary. The main conclusions of the report include:
RSW has an accountability deficit and lacks transparency;
There is no regular evaluation of RSW, hampering improvements to the regime;
The absence of a central, guiding strategy for the private rented sector (PRS) from the Welsh Government has contributed to RSW's shortcomings;
RSW has not engaged well enough with landlords, tenants, or local authorities;
Landlords are paying in more than they get out of RSW; and
In meeting its objectives, RSW's record has been far from stellar despite meeting a number of its targets for participation.
The report, marking the most comprehensive assessment of the powerful quango, to date also makes recommendations to improve RSW's performance and stakeholders' confidence in it:
There should be a public annual report into RSW's performance and direct scrutiny by the Senedd every year;
Operational and political decisions should be clearly identified for reasons of accountability;
As was recommended by a Senedd Committee in 2011, an encompassing PRS strategy from the Welsh Government is needed, potentially setting out a wider role for RSW;
The unanticipated surplus, numbering in the millions, generated by RSW through law abiding landlords should be used to provide discounts or free training for landlords or more effectively deployed into improving enforcement activities and tackling criminal landlords.
Write to your Members of the Senedd using this editable, downloadable letter urging them to consider our report and to instigate a committee inquiry into Rent Smart Wales.
Latest news
The latest news on the private rented sector in Wales:
The NRLA are calling for more scrutiny on Rent Smart Wales. We are calling on landlords to let us know their views on how effectively Rent Smart Wales are operating, how successfully they are communicating with landlords and to what extent they are improving standards in the Private Rented Sector (PRS).
Industry News Tim Thomas 14/10/2021
Our Welsh Policy Officer, Tim Thomas, looks at the impact Covid has had on tenants in receipt of welfare and benefits and what support is being offered to both landlords and tenants to keep tenancies going.
Insights and Opinions Tim Thomas 17/09/2021
NRLA Wales is urgently calling on Welsh landlords to respond to a new survey on what the Senedd's Local Government and Housing Committee's priorities should be over the next twelve to eighteen months.
Industry News Tim Thomas 18/08/2021
A new scheme supporting private tenants in Wales to pay off Covid-related arrears was launched by the Welsh Government this week.
Industry News Victoria Barker 15/07/2021
In late 2020, the NRLA (National Residential Landlords Association) Research Observatory began to collect data and evidence on how enforcement powers available to Welsh local authorities were being deployed in the Private Rented Sector (PRS). It is intended to be a follow-up to the recent review of Rent Smart Wales by the NRLA. The focus of this study was slanted towards mandatory and discretionary licensing, and the efficient, effective and economic enforcement of existing regulations.
Deep Insight Aidan Crehan 18/06/2021
Share your story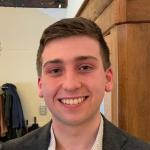 Calum DaviesWelsh Policy & Public Affairs Officer.
Calum Davies is the Policy & Public Affairs Officer for NRLA Wales. After working in communications and research for a political party in the Welsh Parliament, Calum moved to the NRLA to promote the work of the Association to members, politicians, and stakeholders in Wales.
He ensures they are aware of landlord interests when they legislate and regulate in the PRS, helps run the Cardiff Landlord Forum, and develops policy and organises events for NRLA Wales.