Helpful Tips Victoria Barker 19/05/2022
Dementia Action Week 2022: Housing and adaptations
This week is Dementia Action Week, an annual campaign run by the Alzheimer's Society. 
The NRLA continues to work with and support the Alzheimer's Society as part of our accessibility and adaptations campaigning work. 
Earlier in the week, NRLA policy officer Tim Thomas attended the Alzheimer's Society conference to raise awareness of the NRLA's adaptations guidance for landlords with conference delegates, which was created with assistance from the charity and others in the housing and disability sectors. 
Last year, the two organisations produced an infographic (below) featuring six low cost changes that landlords could consider to support people living with dementia to live safe and well within their home for longer.
The NRLA also continues to engage on this topic, as a member of the Housing and Dementia Working Group where we are working together on the recommendation for the APPG on Housing and Care for Older People.
Advice on making properties dementia friendly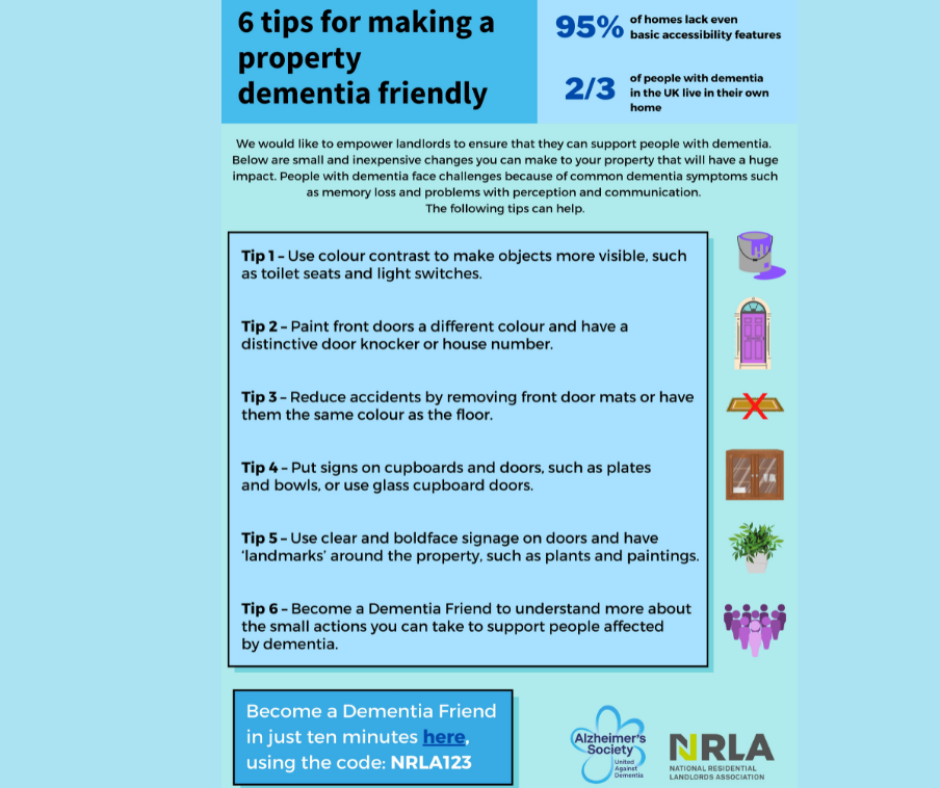 The latest on NRLA adaptations campaign
There is a growing demand for adapted properties. With an ageing population, and an increased share of total housing stock, private landlords need to be ready to cater for a wider range of needs than they traditionally have. But there is both a lack of proactive engagement from local government and a lack of awareness among landlords for how to access funding.
Following the release of the adaptations guidance for landlords last year, the NRLA continues to work across the sector with a range of organisations with expertise in housing, access and adaptations. With the support of partners, we launched guidance last year to help landlords to consider adaptations in their properties.
When it comes to property adaptations, the NRLA is campaigning for:
Greater cooperation between landlords and local authorities to resolve the urgent need for more adapted private rented accommodation.

Clearer communication from local authorities to landlords concerning the availability of the Disabled Facilities Grant. 14.8% of people with disabilities live in the private rented sector according to the ONS, yet only 8% of Disabled Facilities Grants go to private renters.
The association is also working in partnership with five local authorities to develop ways of increasing the supply of adapted properties in the Private Rented Sector (PRS). We are also looking to raise awareness of the advantages of improving accessibility for both tenants and landlords.
So far local authorities from Plymouth, Newcastle, Islington, Chorley – and more recently the City and County of Swansea – have joined our pilot scheme and have already made encouraging steps to engage with landlords. To download the guidance, click below.
Adaptations: Good Practice Guidance
Last updated: 22/03/2021 at 09:55 - 1.08 MB
Download