Helpful Tips Steve Barnes 04/01/2022
The complete guide to landlord liability insurance
Landlords have a legal responsibility to supply a safe home, and fortunately many accidents can be prevented by carrying out regular maintenance and repairs. But despite taking all the precautions, accidents sometimes happen. This is where liability insurance comes in. Here, NRLA insurance partners, Hamilton Fraser Total Landlord Insurance, explain everything landlords need to know about landlord liability insurance.
What is landlord liability insurance?
Liability insurance is an insurance cover that protects you from potential compensation claims related to your rental property, for example if someone injures themselves or other property is damaged as a result of your property. It is a type of public liability insurance that is there to pay the compensation and any resulting legal fees to a third party such as a tenant, visitor or a tradesperson. For example, if your tenant hurt themselves tripping on a damaged floorboard or a loose tile were to fall off the roof and hit a passing pedestrian, you may be liable to pay compensation if a claim was made against you. This could be expensive, so your landlord liability insurance would step in to pay any related compensation, expenses and legal fees, up to the limit of your policy.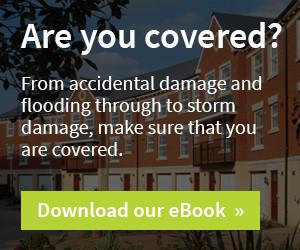 Insurers and their solicitors will also defend policyholders against claims where a third party has alleged that they are at fault, but they haven't actually been negligent. In this scenario they will try to defend you and, if they find that you are not negligent for any injury caused, they will provide cover for the defense costs required to defend the claim on your behalf.

Why do you need liability insurance?
Although liability claims accounted for only six per cent of Hamilton Fraser Total Landlord Insurance's claims over the last five years, accidents can happen to the most careful of landlords. And, in our increasingly litigious society, there is the added risk of false claims being made. Liability insurance is therefore vital for peace of mind.
Public liability insurance is not a legal requirement for landlords. However, should a claim made against you go to court – and you lose - the costs could be considerable. The average claim paid out by Hamilton Fraser Total Landlord Insurance over the last five years was £3,007. But claims can be much higher – in one instance, a tenant fell whilst walking down wooden steps in the garden due to a 13-inch gap between the steps, breaking his knee. Hamilton Fraser Total Landlord Insurance accepted liability for the claim as the stairs were faulty, and paid out a total of £99,155 for compensation, solicitor's costs and fees.
Some liability claims can run into millions of pounds. For example, if a tenant had an accident that caused a life changing injury, you could be liable for medical expenses and loss of income for the rest of their lives.
Fortunately, liability coverage is a standard offering in most landlord insurance policies, but it's important to check it's included in your policy.
What are the most likely causes of liability?
The Defective Premises Act 1972 sets out certain duties of care that landlords owe their tenants and visitors to their property. This includes the legal obligation for landlords to prevent their tenants and visitors from suffering injury or damage to property caused by defects in your rental property.
Some of the more common defects to be aware of include:
Damaged floorboards that someone could fall through or trip on
Worn or loose carpet that could cause a trip or fall
No handrails or damaged handrails on staircases
Loose plaster – particularly on ceilings, which could fall and cause injury
Poorly maintained shower or hot water system that could cause burns
Leaking pipes that could damage tenants' belongings
Poorly maintained roofs
Landlords are also responsible for any defects in communal areas of rental properties, as well as those in outdoor areas, for example potholes on a driveway, cracked paving stones on a path or loose tiles on the roof.

Duty of care and negligence
As well as the duty of care laid out in the 1972 Act, landlords have a legal obligation to make sure their property is fit for human habitation, safe and free from serious hazards. You can find out more about how to rent a safe home on GOV.UK.
Although not all tenant injuries are the fault of the landlord, it is important to understand your responsibilities to avoid any expensive and damaging personal injury claims. For a landlord to be deemed liable for injury to a tenant, it must be shown that they were negligent in some way. Negligence is a broad legal concept, loosely defined as a failure to take reasonable care to avoid a foreseeable risk of injury.
For example, a landlord would be considered negligent if they didn't carry out repair work needed after the tenant had told them about it, and as a result the tenant injured themselves or their belongings were damaged. It would also be negligent if the landlord did do the repair work but did it carelessly.
This is why it's important for tenants to let the landlord know if repairs are needed and for landlords to act promptly. If, for example, a tenant notified the landlord that the handrail on the stairs was damaged and they were then injured falling down the stairs, the landlord could be found negligent. To prove that the landlord has been negligent, the tenant would need to show that they failed to uphold their duty of care towards them or other visitors to the property, which then resulted in injury.
Since most liability claims are a result of poor maintenance, it pays to carry out repairs promptly and keep the property well maintained and in a good state of repair.
Five steps to reduce the risk of liability claims
There are five key steps landlords should take to reduce the risk of liability claims:
Do a risk assessment before the start of the tenancy. It's important to have documented evidence that you've done this, for example in the form of a checklist
Carry out regular mid-term inspections and make sure these are documented and signed by the tenant. It is also a good idea to take photos when carrying out inspections
Make sure your tenants know how to contact you and ask them to tell you about any repairs that need doing or any issues that might cause injury, and make repairs carefully and promptly. It is also sensible to keep a record of dates and times you were made aware of any issues and when they were repaired and what remedial work was you did to rectify the issue, so that you have an audit trail if required
Carry out regular maintenance to make the property and all exterior areas safe
Make sure you have comprehensive landlord insurance which covers you for landlord liability

What should you do if a liability claim is made against you?
If the worst happens and a liability claim is made against you, it's important to stay calm and follow the standard procedure below to avoid jeopardising your position:
Do not admit liability or make any offers of compensation
Take time-stamped photos if it is safe to do so
Report the claim to your insurer, forwarding all third-party correspondence unanswered and providing as much information as you can. Late notification or failure to cooperate with insurers during their investigations can jeopardise your claim
Make any repairs to the property that are necessary and keep any invoices and receipts for purchases or work carried out
What to look for in your policy to make sure you're covered
Most landlord insurance policies will include liability cover as standard, but it's important to check. Hamilton Fraser Total Landlord Insurance includes both property owners' liability and employers' liability - at no extra cost - with a choice of cover between £2m and £5m, depending on your needs. Landlords should however be aware that any incident that took place outside the period of insurance would not be covered. For example, a policy taken out now wouldn't provide cover for an incident that took place a year ago.
Steve Barnes, Associate Director at Hamilton Fraser Total Landlord Insurance, sums up: "Liability insurance is an essential feature of any landlord insurance policy as it offers protection if a tenant or visitor is injured on your property. For some properties it may even be mandatory. Landlords should make sure they pick up any safety issues in their property by doing mid-term inspections, encouraging tenants to report repairs and attending to them promptly. If you have done everything right, but a third party is still intent on trying to sue you, then at least you have the evidence you need and the knowledge that, by having liability cover, the insurance company will do all they can to defend you."
Unfortunately, no matter how well prepared you are, the unexpected can still happen, which is why we recommend that you have the right insurance in place to provide comprehensive cover. NRLA Property Insurance provider, Hamilton Fraser Total Landlord Insurance, has a dedicated in-house claims team of expert advisers who are on hand to help you should the worst happen.