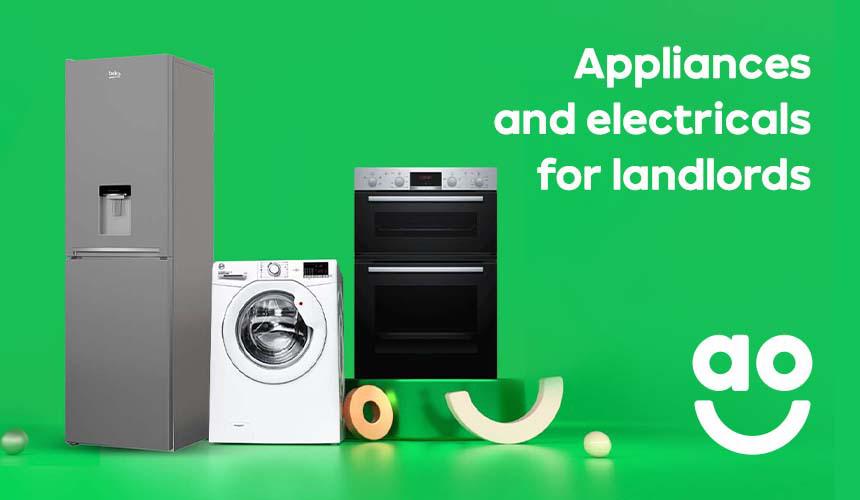 AO Appliances
In need of a new washing machine or oven for your tenant? Are you refurbing your property and need a new TV? We've got a great range of electricals and kitchen appliances specifically tailored for landlords in our NRLA Core Range.
From great value appliances that get the job done consistently and without hassle, to top spec electricals that add a bit of wow factor. We've got it covered.
And if you're not sure what you need, or just need some advice, we have a dedicated AO Business team to help ensure you get the right product for your tenants.
Great Deals for NRLA Members
Our NRLA Core Range showcases a great range of products for landlords, all included in our AO price match promise.
If you can't find the product you want in our Core Range, check out our full range of products on the AO Business website.
Delivered, Installed, Recycled
Need your items in a hurry? We offer a next day delivery service* for £9.99. Delivery cost for any day after that is free of charge.
If you need some extra help installing an item, we can do this for you. Full details of our installation service are available on the AO Business site.
At the same time we deliver and install your new electricals, we can also take away your old appliances and recycle them in our own recycling centre. No hassle for you, and you get peace of mind knowing the old appliances will get a new lease of life.
Here's a breakdown of the services on offer and the typical costs:
Standard wet connection (freestanding washing machines, freestanding dishwashers): £19.99
Electric connections (electric cookers, electric ovens): £74.99
Gas connection (gas hobs, gas cookers, gas ovens): £79.99
Built-in/integrated connections (fridge/freezer/fridge-freezers, washers/tumblers, electric ovens/hobs): £79.99
Disconnection (this service is free of charge if purchased with an installation service): £9.99
Recycling: £14.99
Next day delivery: £9.99 (any day after this is free of charge)
How to Order
Ordering with AO is super simple:
1. Find the product code from our NRLA Core Range, and make a note of it
2. Call us on 01204 672 687 or email us at nrla@ao-business.com
3. Let us know your NRLA membership number and email address
4. Order your items and pay via credit/debit card over the phone
5. Receive your items on your chosen delivery date
Opening Times
Monday – Friday 8.30am – 6.00pm
Sign into your member account to access these discounts
* Geographical restrictions apply. Delivery is available to mainland UK postcodes (excluding Scottish Highlands, Scottish Islands, Channel Islands, the Isle of Man and the Republic of Ireland). Due to national supply chain issues resulting from Covid-19, there may be some delays in some deliveries. Please contact our team for more information surrounding deliveries.